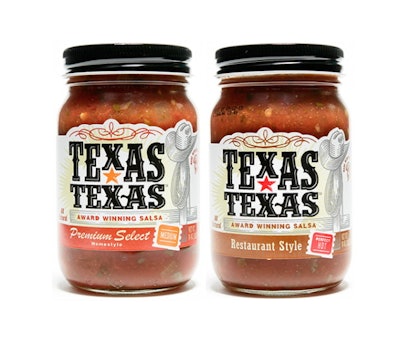 Austin-based Sanderson Specialty Foods has launched new packaging for its Texas-Texas brand of premium, all-natural salsas. The family-owned and operated company has long had a strong regional presence and is seeking to position itself for continued growth nationally, and differentiate its brand from the ever-growing number of competitive offerings in the salsa category. Sanderson Specialty Foods' last major redesign dates back to 2009.


"We sought to develop an unconventional design that conveys premium quality but remains approachable," says Brian Sanderson, President of Sanderson Specialty Foods. "We wanted to create a local, gourmet salsa experience for the food enthusiast that's fitting for any occasion. There are other great salsas on the market, but we think we make the very best salsa you can buy."

Updating the Texas-Texas consumer packaging also led to an overhaul of the brand's messaging and identity. The project represented the largest investment Sanderson Specialty Foods has ever made in its packaging, and the company says it was important to take advantage of the abundant talent and resources available in the Austin area. Working with a local designer with extensive packaging experience, Sanderson Specialty Foods conducted an exhaustive analysis of colors, graphics, readability, fonts, shapes, and theme. International Print & Packaging, of Liberty Hill, TX, then helped define the material and label finish. 

"We wanted to inject more imagery representative of Texas and our company heritage, to enhance authenticity," continues Sanderson. "The hand-drawn cowboy hat and rope illustrations are quintessentially Texan and celebrate our product's role in traditional Texas cuisine, while reinforcing family values such as hard work and self-reliance. To that end, the pickup truck is a nod to my father, Eddie, who perfected our original salsa recipe and made our company's first deliveries by hand out of the back of his pickup in 1997."


Notable changes and features of the new labels include:

• Restructuring of the brand name with the "Award Winning" declaration in a western font and a star colored to match the heat stamp
• Enhanced Texas personality with iconic cowboy hat and rope on post
• Positioning of variety banner next to the heat stamp, after research revealed that consumers value variety and heat equally
• Placement of descriptors below the variety names to distinguish varieties or describe important features
• Removal of select messaging from old labels to achieve a cleaner design and enhanced readability
• Use of an irregular label edge, hand-drawn illustrations, and a unique heat stamp to convey a homemade feel
• Use of a spot UV finish on the brand name, heat stamp, and variety banner to maximize shelf visibility
Sanderson believes the updates result in a more visible product that is more easily remembered past the point-of-purchase than the previous packaging. The new Texas-Texas labels have already begun appearing on retailers' shelves, and the rollout will continue through the end of June.