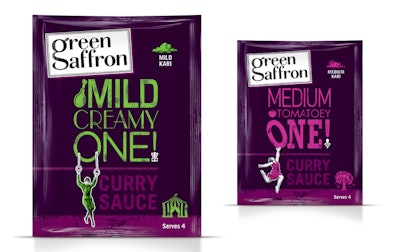 Green Saffron of Ireland has added a new range to its existing portfolio, with packaging designed by bluemarlin that is set to widen the brand's appeal to an audience of beginning cooks, inspiring their gastronomic imagination. The range, consisting of ready-made curry sauces and spice mix sachets, launched in supermarkets across Ireland in May 2014.
Green Saffron is the passion project of entrepreneur Arun Kapil, whose ambition is to bring the freshest, highest-grade whole spices straight from the farms of India to the consumer's kitchen. The new packaging marks the continuation of the branding platform bluemarlin created for Green Saffron's retail debut last year.
Bold with a colloquial tone of voice, the new design communicates the simplicity of making something delicious. A dominant deep purple color palette unites the range, while Green Saffron's distinctive logo and signature 19th century etchings remain an assured presence on the new products. Both elements symbolize the brand's aim to deliver on adventurous flavor and colorful personality.
"The new range stands out on shelf. Clear variant differentiation and usage instructions make it easy for consumers to select the product and prepare beautiful meals. To appeal to consumers that are just setting out on their culinary journey, we made sure that Green Saffron's knowledgeable cadence and uniquely humorous attitude remain as prominent as ever," says Simon Pendry, Creative Director bluemarlin UK.
Adds Green Saffron founder Arun Kapil, "The packaging for this range extension shows the brilliant adaptability of bluemarlin's original design solution, clearly communicating how Green Saffron can easily add a world of taste to home-cooked food. It's a great testament to the success of the ongoing partnership between ourselves and the agency."
Also launching in the coming weeks is Green Saffron's first rice product. The premium Aged Basmati marks the expansion of the brand's portfolio into a wider variety of Indian cuisine.
Companies in this article