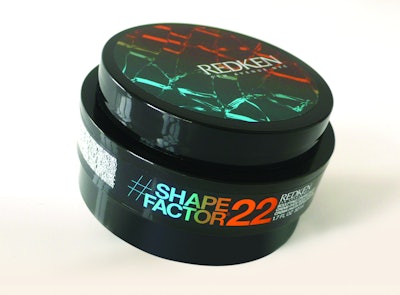 Part of L'Oréal's Professional Products Division, the Redken brand of hair products has built a reputation as "the fashion brand" in the professional hairstylist market in which it is sold. In 2013, after using the same packaging design for its Redken Styling line for eight years, the brand was due for a makeover. The 2005 packaging used a silver, industrial steel-inspired color that no longer reflected the chic, sophisticated brand Redken had become.
"In the fashion world, trends in design and style last only one season—and a season lasts six months. The next fashion season takes trends, colors, and styles in a completely new direction," says Robert Bergman, Creative Director of Bergman Associates Mpakt, whose firm designed both the original and the updated packaging. "Since designing Redken Styling's current silver packaging eight years ago, and taking into consideration the velocity of change in trends and fashions, eight years is a long time, and obviously the time to renovate had arrived."
Incorporating shoppability, convenience, and fashion-forward style in the new design, Bergman Associates Mpakt employed a new navigational system, a functional new structure, and bold, electric colors for the updated packaging, which was "blessed by L'Oréal CEO Jean Paul Agon on its initial presentation to him," Bergman shares.
A chic package that pops
Founded in 1960 by American actress Paula Kent and her hairdresser, Jheri Redding, the Redken brand of professional products is sold in salons, spas, beauty supply stores, and beauty product retailers such as ULTA Beauty and Sephora. The brand comprises three lines: hair care, hair color, and styling.
According to Bergman, since his agency began working with the brand in 2005, it has taken Redken to the number-one position in U.S. professional hair brands. "Part of this success was achieved by creating a brand architecture that was based on a strong link to the fashion world," he says. "We shot Redken's advertising on the runways from the world's top fashion shows, used the top fashion runway hairdressers from the Paris, New York and Milan shows, shot by the world's top fashion photographers, and so on. We used fashion in every part of Redken's image whenever possible."
Of the three Redken lines, Bergman says the styling line is the most fashion-forward part of the brand, "styling being more connected to trends in hairstyles and textures, and thus being more related to setting and being at the forefront of trends and fashion."
As such, Bergman Associates Mpact chose a sophisticated, gloss black color with metallic foil designs and typography in bright, neon colors for the packaging, which includes jars, bottles, aerosols, and tubes. The eight different custom colors identify each product's "end result"—Blow Dry, Flex, Heat Styling, etc. The colors are also used with the product's numbering system, which designates a "hold factor" from 1 to 30.
According to Bergman, finding those custom colors wasn't easy, as they not only needed to link to hairstyle end-result cues, but also to existing industry cues for each category. And, they needed to be fashionable. From a technical standpoint, because they were custom foil colors, each had to be tested as a foil, with many colors failing that test. "The process ended up involving a lot of negotiation and compromise, but in the end, I think we created an amazing palette," Bergman says.
Interlocking jar
Along with new graphics, Bergman Associates Mpact also created a custom, interlocking jar structure, inspired by the unique technology of Redken's hair-styling products. The jars are used for products such as pomades, creams, and pastes, which are formulated to be used together in sets of two or three, mixed and "layered" to achieve a range of hairstyles and textures.
The new package structure features three different jar sizes with hollow bases that accept the next jar's lid, fitting together with friction. "It was the perfect solution for styling products that are intended to be customized—a way of locking them together," Bergman says.
For the balance of the products, the design agency used existing packaging as a way to expedite the project, which was completed on an accelerated schedule of six months from conceptualization to manufacturing.
The complete line of 40 styling SKUs was launched in the new packaging on Redken's website in January 2014, and in salons worldwide in March.
Companies in this article