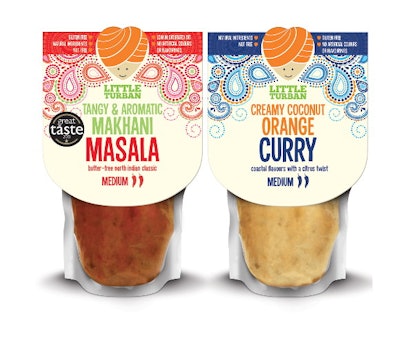 Inspired by the story of the origins of Little Turban—a line of five Indian curry sauces with a modern twist—U.K. agency Slice Design has taken the brand packaging from lackluster appetite appeal to showcasing the lighthearted yet bold flavor combinations of the products.
Little Turban was born in 2011, when founder Harj Dhillon, seeking the delicious, from-scratch curry sauces of his youth, created a line of authentic, prepared sauces that could be enjoyed at home without the time and commitment required with homemade curry. Says Slice, "All of Little Turban's recipes are based on traditional dishes and are given a twist with bold and innovative flavor additions."
To create the positioning for the brand, Slice researched the competitive market and found it full of packaging using "the same tried-and-tested pastiche palette," according to Alan Gilbody, Slice Creative Director. "In short, they all look the same and take themselves too seriously."
Slice also worked with Dhillon to glean the true essence of the brand and the story behind it. "Little Turban sauces are very different; there is a certain lightheartedness to some of the flavor combinations, so we wanted to capture this in the brand positioning and package design, " Gilbody adds.
The new package replaces a folding carton with a clear, 400-g standup pouch that allows a view of the vibrant sauces, topped by a header card printed on uncoated stock that conveys the artisan nature of the brand. "The previous pack format was over-packaged and expensive to produce," says Slice Account Manager Georgia Hughes, "while the new packaging facilitates cost reduction."
With the brand repositioned as "Tradition with a Twist," the header card is decorated with vibrant colors and a contemporary execution of traditional Henna tattoo patterns to capture the intriguing flavors of the sauce. Quirky, modern typefaces capture the brand's bold flavors and exciting recipes.
The hierarchy for the new design focuses on brand, flavor combinations, and ingredients, while the existing logo—a stylized, illustration of a character with a turban—features prominently at the top of the card. "We used the logo from the previous packaging, as this was an important and well-loved brand equity," says Hughes.
The new packaging launched in March 2014 online and in independent U.K. retailers.
Says Dhillon, "They [Slice] really explored and probed every aspect of Little Turban from its origins to where it wanted to go and helped me appreciate that it was not just about creating colorful packaging with eye-catching colors and graphics; they really embraced the Little Turban story and practically translated it onto the new packaging.
"The work they have done is brilliant, they really went the extra mile, which I am grateful for. I just wish I had found them earlier!"
Companies in this article