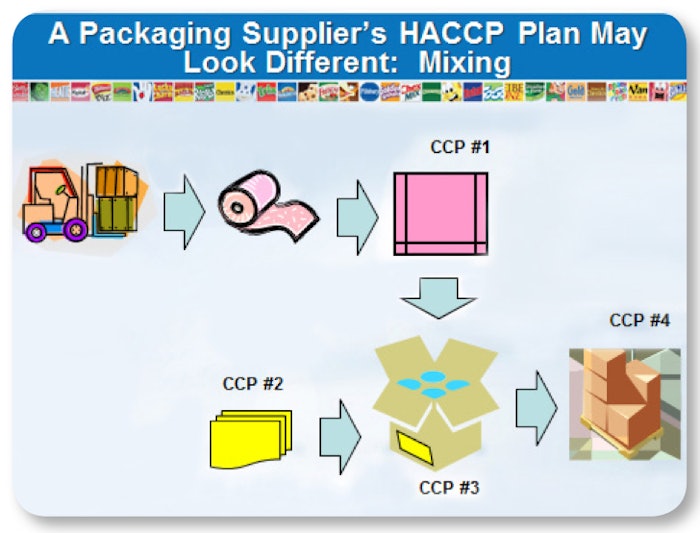 Whichever path a packaging supplier takes to get training, there are some rules, which Hazard Analysis Critical & Control Points (HACCP) methodology speaks to, that the supplier must keep in mind. What is critical for the supplier—and the supplier's customer—to understand is that to correctly implement HACCP for packaging, longstanding rules of HACCP must in some cases be broken. These rule breakers of HACCP speak to the uniqueness that the packaging industry must keep in mind when applying HACCP principles.
Rule Breaker #1: There can be more than one CCP for a particular hazard in a packaging plant. This goes against all training that exists in non- packaging applications, which states that there can only be one CCP for any given hazard in the food industry. For example, mixing labels that may entail allergens and/or chemicals with different handling requirements are a hazard with more than one CCP.
Rule Breaker #2: Glass is allowed. Of course, it must be controlled. For most food plants, it is most easily controlled by eliminating it. For the food glass manufacturer, it means understanding contamination zones upon breakage, 100% inspection, proper temperature, coating, and handling controls.
Rule Breaker #3: Allergens do not pertain to food. For the packaging converters, the issue is more accurately characterized as label control. While CPGs do not want peanuts and other allergens in the packaging supplier's facility, when it comes to packaging a product on the production floor, CPGs need the packaging supplier to have programs in place that prevent copy mixing. This mostly occurs on lines that run side by side, or on an individual line that runs varied copy, one after another.
Rule Breaker #4: Pest control is about harborage. The food industry has an abundant amount of food and must be diligent to stay on top of its pest control programs.
In the food industry, focus is on master sanitation schedules. The packaging industry creates nice homes for insects and rodents to hide in. Corrugated is the best example of this. Every flute offers the confined space in which insects will hide. The other area where we see some of the most frequent violations of basic GMPs is pallets that are stored outside. There is not adequate pest control outside, and everything from insects to small rodents have been found in these wooden or plastic homes. Once in a pallet, there is no good "kill step" to ensure that the pallets are fit for food manufacturing distribution.
By applying these rule breakers into the HACCP process, we can start to eliminate confusion, which is usually one of the barriers to adopting HACCP into a packaging facility.
A good way of looking at the packaging industry and its effects on the food manufacturer's supply chain is through the simple equation:
This is a great tool to use when evaluating all types of packaging industries. For example, look at corrugated. This packaging medium is usually a secondary or tertiary unit to the food item.
If the hazard is a transient or there is resident infestation at the packaging supplier's plant, the recipient food plant is at greater risk. Why? Exposure. Due to the nature of exposure through volume, one food plant will receive multiple truckloads every day from the corrugated supplier. This constant movement links the corrugated supplier much more closely with the CPG supply chain, and therefore the movement of insects is more likely.
If we look at the flipside, one hazard could be a trial of a new glass item. While the hazard is great (foreign material, glass), one might view the overall risk differently for a one-time run on that trial than if one were setting up the item for longstanding production.
Five key realizations
Some suppliers have adopted HACCP and are much more aware of the supply chain risks that could have an impact. This new awareness has brought on the next level of learning. Better communication has brought about some realizations for new thinking on behalf of the CPGs and packaging suppliers.
Realization No.1: If you test, do not ship. If the packaging supplier has as part of its process a Gas Chromatograph (GC) test for release, do not ship the packaging material to the CPG company while waiting for the results. Too many times the industry has seen where either the bad results were not communicated properly through the supply chain, or they were not communicated at all. Bringing material back, or worse yet, pulling product from the marketplace costs way too much compared to holding the packaging material at the supplier's location until the proper clearances have been given.
Realization #2: Test for one, impact another. A continuation from the last scenario, an additional issue arises when a test is implemented at the request of one CPG company (A), and the testing is applied to another CPG company's (B) products. If there is a bad result, then both companies could be implicated by the results. But, since company B did not request the testing for release program, they are not notified that 1.) the testing is going on at all, and 2.) that there is potential "bad" material out there.
Realization #3: Communicate results, not actions. Packaging suppliers have asked CPGs to recall their packaging material. A recall has certain implications and shall be issued by the CPG company through the appropriate channels. The packaging company shall communicate what the hazard (actual or potential) is and the quantity impacted. It should not state that the material needs to be recalled.
Realization #4: When quantifying impact, go big. We have seen this as probably the biggest mistake that the packaging industry makes. When a defect is found, old teachings say to go back to the last good check and hold. That adage does not work. Just because a defect was not found in the last round of inspection does not mean that it was not happening for a long time. Here is a time-based series of events:
10:00 Maintenance over-greases a gearbox above a production line. 10:05 Grease sporadically drips into empty cups below.
10:30 As part of a QC check, 10 cups are pulled for measurements and visuals. No issues reported.
11:00 QC check again on 10 new cups. No issues reported.
11:20 A packing operator notices a foreign material substance on the inside of the cup. 11:28 QC evaluates and issues a hold for material produced back to 11:00.
11:28 QC evaluates and issues a hold for material produced back to 11:00.
In this example, you can see that material from 10:05 on is suspect, and the supplier only captured material back through 11:00. Until the assessment could be made as to where
the contamination came from and its root cause, a hold should be issued for the entire production time and maybe even further back, and then released for use after a positive root cause and time can be established. Going through records, hopefully there would be time and activity in the maintenance log stating the intervention, and the hold should be made for 10:00, as it would be difficult to pinpoint when the dripping actually occurred.
HACCP is a great tool for understanding and identifying risks from the packaging supplier to the food industry. With careful consideration of the controls, understanding of the rule breakers, and realizations of communication practices, a packaging manufacturer can protect itself and the CPG companies that it supplies. 
About the Author: In his role at General Mills, the author fosters innovation and industry outreach, and has been auditing packaging specifications and supplier conformance for more than 12 years. He is also former Chairman of the Food Safety Alliance for Packaging (FSAP), a technical group of the Institute of Packaging Professionals (IoPP).
Companies in this article