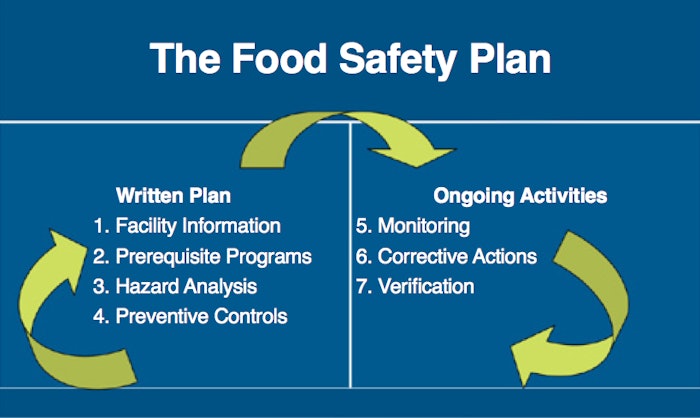 A primary goal of the Food Safety Modernization Act (FSMA) is greater prevention. While this has always been a general goal of food safety practices industry-wide, the new requirements are designed to mandate for all companies what many of the leading companies consider best practices today.
In doing so, the FSMA represents a major effort to establish a risk-based and global systems approach that takes prevention to the next level.
We now have seven proposed rules issued by the FDA, and one common theme among them all, aside from prevention, is the need to keep records. The FDA essentially has the approach that "if you didn't document it, you didn't do it." Thus, many companies will have to significantly upgrade their ability to document production, from processing and packaging to their and their partners' supply chain activities. Recordkeeping is central to food safety efforts and now the law. It leads the list of these aspects of the law implemented since its 2011 enactment:
• Inspection of records: These include manufacturing records; raw materials (ingredients and packaging) receipt records; product distribution records; product inventory records; test records; recall records; reportable food records; customer distribution lists; and records of complaints and adverse events. It is important to remember that the FDA has the authority today to look at records.
• Mandatory recall authority: The FDA gained authority to mandate a recall, something it could only do for infant formula until FSMA. This would be based on a reasonable probability of serious adverse health consequence or death.
• Authority to suspend the registration of food facilities: This applies when food manufactured, processed, packed, received, or held by a facility is found to have a reasonable probability of causing serious adverse health consequences or death to humans or animals. This can effectively shut down a facility by halting imports or exports into the U.S. as well as domestic interstate or intrastate commerce.
• Administrative detention of foods becomes effective: The FDA can and already has put a hold, or Administrative Detention, on shipments using a new, lower threshold. Detention can now be based on a "reasonable belief food is adulterated or misbranded." Prior to FSMA, the standard was based on "credible evidence that food presents a serious adverse health consequence."
Additional items enacted in 2011 include an FDA Food Defense Mitigation Strategies Database; authority to require import certificates; passing of an Interim Final Rule on Criteria for Administrative Detention; and an FDA/Department of Homeland Security Joint Anti- Smuggling Strategy.
The 2014 agenda is ongoing, with comment periods still open for some of the proposed rules, but it is closing fast. We can anticipate some portion of preventive controls to come around later in 2014 for another round of comment, but we need to be looking toward mid-2015 for all these proposed rules to be final.
The Foreign Supplier Verification Program (FSVP), an all-new consideration in the area of preventive controls, is going to have a massive impact on food companies and their suppliers, which will have to keep records that demonstrate control of risks in order to gain entry to the U.S. market.
Traditionally, FDA regulators have focused on maintaining the safety of spot-checking food from any of more than 250,000 global sources as it arrives at a port of entry. But they inspect only about 1% of foods, and have cause to actually test only a fraction of that. The FSMA now shifts the burden from the regulator trying to catch the "bad stuff" to the importer to take responsibility for demonstrating that the food was produced safely and in compliance with the law.
The need for better documentation
The need for greater FDA access to records is illustrated by an outbreak of botulism several years ago, when botulinum toxin was found in canned chili produced during two days on two of 12 cooking lines. At the time, the FDA had authority to request records for only the two lines in question on the two days the botulism was tested and found present. The FDA then had to invoke laws from the Bioterrorism Act, and this led to a much larger, massive recall of that and another canned product, because the FDA didn't have jurisdiction to inspect records for another product produced on the same lines during the same work week.
Just as with domestic product tracking requirements, global supply chain realities are driving the need for better preventive controls by importers. The deliberate export of melamine-tainted pet food, which resulted in several animal deaths in 2007, illustrates this need. This event was a game changer that drove this need, because if this event were to happen again, this time in products for human consumption, such an incident could be catastrophic.
While companies will be subject to considerable documentation requirements under FSMA, many of the requirements are already being met, including the "one-up, one-back" product tracking standard many companies practice in meeting their large retailers' requirements. But there is no doubt that the new, mandatory requirements will be a challenge for many companies in the high-volume, low-margin food industry.
Traditionally, the industry has done everything possible to deal with outbreaks and recalls, but there are limits to what is practical and affordable. The cost of a product tracking solution, however, is difficult to know; it will be largely determined by a company's current level of risk and what kind of product tracking it already has. An automated system might cost $10,000 or hundreds of thousands of dollars. At the same time, the law does not mandate automated systems.
One of the new proposed rules is on third-party audits. For for the first time, the FDA is establishing a program to use data from third-party audits. There are strict requirements for accreditation of auditors, and there is some direct reporting of findings to the FDA. But this is a major change for the regulators, and is appropriately leveraging private-sector auditing capabilities.
By keeping records, and knowing when a process deviates to threaten not just quality, but also safety, companies that lead in compliance can quickly identify and destroy product if needed, protecting the public and significantly reducing financial risk.
Complying with FSMA's data collection and documentation requirements will be a struggle for many companies, but the requirements will make it significantly easier for companies to reduce food safety incidents or at the very least their impact and scope should one occur. This "carrot" is far preferable to facing the "sticks" of noncompliance.
About the author: In addition to his role as CEO of The Acheson Group, the author has served as Associate Commissioner for foods at the U.S. Food and Drug Administration and as Chief Medical Officer for the FDA's Center for Food Safety and Applied Nutrition.