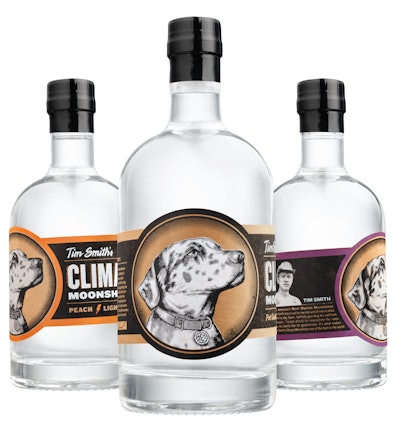 To bring Discovery Channel reality star Tim Smith's moonshine beyond it's Climax, VA, roots and to the retail market, Beardwood&Co. has developed packaging that speaks to Smith's backwoods moonshine-making experience. Smith has gained fame in the show, "Moonshiners," which tells the stories of "shiners" who still engage in the age-old illegal practice of distilling whiskey.
Making Smith's whiskey legit, Prost Beverage Co., Fort Pierce, FL, licensed the rights in 2013 to develop a legal moonshine brand faithful to Smith's recipe of pot-distilled corn, rye, and barley malt mash for a 90-proof spirit under the Climax name. To convey the authenticity of the brand through packaging, Beardwood called on aspects of Smith's life as well as elements that harken back to the handcrafted nature of moonshine.
"First and foremost, Tim wanted to make sure that the brand represented him and his recipe in an authentic way," says Beardwood Senior Brand Strategist Sadie Dyer. "There are three generations of moonshine-making experience in every bottle, and we needed to portray that. But he also realized that the shelf is crowed, and Tim wanted to ensure that the packaging would be noticeable among the competition and draw you in from several feet away."
Beginning with a deep dive into the category, Beardwood analyzed 11 recently launched competitive moonshine brands. From there, the decision was made to use a clear-glass, stock oval bottle from Piramal that balances premium cues with functionality and brand fit. "Mason jars and handled jugs are category standards," says Dyer. "Climax Moonshine is a high-quality whiskey, as straightforward as it is perfected. We wanted the structure to reflect that."
Through its research, Beardwood also learned that the story behind the brand is important for this category. For Climax, Smith's real-life dog, Camo, became the brand mascot. "Camo guards against intruders and lawmen and is the symbol of true loyalty," says Ryan Lynch, Managing Partner at Beardwood.
The label across the bottle prominently features an etching of Camo. Made of natural, Kraft paper, the label is applied slightly askew, capturing the handcrafted process of moonshining, while the typography references historical "Wanted" posters. Labels are printed on two sides, with the inside-facing panel featuring illustrations of Tim with his original still; each of the three Climax flavor varieties features a different image.
A custom-designed Tim Smith monogram adorns the cap of the bottle, with lettering evolving from classic fire department monograms, tying back to Smith's job as the fire chief in Climax.
Tim Smith's Climax Moonshine is available in Original flavor in a 750-mL size and in Grape and Peach Lightning varieties in a 375-mL bottle. Originally launched in Georgia and South Carolina, the whiskey is now being rolled out nationally. Says Dyer, "We hear that Climax Moonshine is doing very well, and that they are even having a hard time keeping up with demand."
Companies in this article