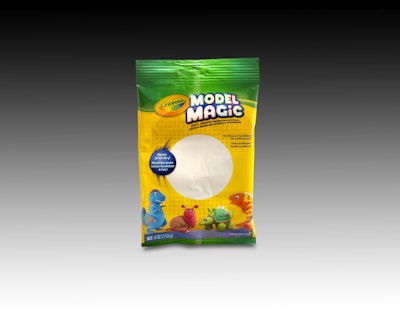 Model Magic Clear Barrier Overwrap wins top FPA honors + two Golds
Rollprint Packaging Products, Inc. received the Flexible Packaging Assn.'s Highest Achievement Award for Model Magic Clear Barrier Overwrap, being used commercially by Easton, PA-based Crayola for Crayola Model Magic, a lightweight modeling compound introduced at retail in its new packaging for the Q4 quarter 2013 holiday season.
FPA's top award is presented to a package receiving an award in the Gold category ranked by the judges as having contributed most to the advancement of the flexible packaging industry. The Model Magic Clear Barrier Overwrap earned a Gold Award for Packaging Excellence and a Gold/Technical Innovation.
The winning structure consists of ClearFoil® Z/ink/Forté® L (a proprietary metallocene blend), with a total thickness of approximately 0.003 in. It's gravure-printed and is supplied by Rollprint as rollstock that is formed and filled in-line.
Crayola's Model Magic is a unique, lightweight modeling compound available in a wide range of vibrant colors. Model Magic is designed to air-dry to a resilient consistency in 24 to 36 hr at ambient conditions. To ensure that Model Magic remains pliable until the time it is opened by the consumer, it must be packaged in an ultra-high barrier material.
Historically, an aluminum foil barrier has been required to meet Crayola's shelf-life expectations. However, with the opaque foil package, the engaging Model Magic color palette was hidden from consumers.
Because the product is so visually appealing, Crayola desired a package that would allow consumers to view the product. Model Magic Clear Barrier Overwrap provides a moisture barrier comparable to aluminum foil ensuring product performance is not compromised. It's able to do this in a format that is crystal clear, allowing the product to "promote itself."
When the packaged product is on the shelf, consumers like to squeeze and knead the modeling compound. The previous foil structure would permanently wrinkle when handled and could look "beat up" before the consumer had a chance to purchase it. In contrast, the new package remains crisp even after rough handling. The consumer remains confident that they are purchasing "fresh" product.
The biggest challenge Crayola faced when moving to a clear structure was finding a material that had the outstanding moisture barrier needed to provide the necessary shelf life. Ensuring that Model Magic was fully pliable at the time of consumer use is a key to consumer satisfaction and was not an area for compromise.
Crayola found that Model Magic required a barrier comparable to the one provided by the foil structure that they had been using—that is, into the fourth decimal place when measuring in g/100 in2/day.
Typical clear flexible barrier materials only provide moisture barriers into the second decimal place. After many film options were evaluated, Crayola determined that ClearFoil Z was capable of providing the ultra-barrier demanded of Model Magic
With a barrier of 0.0008 g/100 in2/day, ClearFoil Z is a breakthrough in barrier film technology. Through an aluminum-oxide coating process, ClearFoil Z is said to provide barrier properties 100-times better than those found with other non-foil structures and is reported to be the first transparent flexible barrier structure capable of outperforming structures made from the most common foils.
To ensure a positive consumer experience when accessing the product, the Model Magic could not stick to the sealant. However, the sealant had to consistently provide hermetic seals on high-speed overwrap equipment. To achieve this, Forté L, was laminated to the ClearFoil Z.
Model Magic's vibrant colors, which are now visible to consumers, create excitement and immediately engage the consumer. By using opaque inks, color bleed-through from the product is limited, ensuring Crayola's well-known yellow and green colors remain true and that the Crayola brand is supported.
Shelf appeal is further enhanced since the package does not wrinkle when handled. The consumer can "test" the product without negatively impacting the look of the package.
A sustainability benefit is enjoyed via the elimination of aluminum foil in the structure, says the entry form. "Model Magic Clear Barrier Overwrap is 6.3% lighter than the foil structure that it replaces. It's able to do this while maintaining a sturdy feel needed to provide a premium presentation when displayed. When distributing millions of packages, even small weight reductions positively impact distribution costs."
Using ClearFoil Z also aids in recycling/recovery efforts by allowing the material to be accepted into institutional recycling streams. By moving to a clear ultra-high barrier overwrap, Crayola was able to replace a packaging SKU for each color with one universal SKU by inline ink-jet printing the bar code corresponding to each color.
With the foil overwrap, each of the 22 SKUs of Model Magic had its own graphics to communicate to consumers the color present in the package. One of the key advantages of moving to a clear ultra-high barrier structure is that only one packaging SKU is needed to package all Model Magic SKUs. Crayola is also able to quickly respond to variations in consumer demand for a particular color since the generic packaging SKU is always available.
Because the new Model Magic Clear Barrier Overwrap does not have the dead-fold characteristics of the previous aluminum foil structure, it does not wrinkle during shipping, distribution, display, and handling.
Integrated tube makes hair-care refills mess-free
From Japan, a convenient, mess-free refill pouch for Clairol's Herbal Essences Conditioner has been recognized with a Gold Award for Packaging Excellence. Converted by Tokyo-based Fujimori Kogyo Co., Ltd., the Flowpack™ NT for single-use refills features a tube integrated into the refill spout to ensure smooth pouring, while an easy-tear laser score enables convenient access to the refill spout—even in a wet shower environment.
The bottom-gusseted stand-up pouch for the hair-care product is an adhesive-laminated structure of nylon/vacuum-metallized PET/PE. The pouch holds 340-g (approximately 11.5-oz) of product and was cut in a custom shape, with soft curves along the top of the structure. "The upper sides of this Flowpack…are floral and feminine, creating additional appeal and supporting the core message of the product," says Fujimori Kogyo's FPA entry form. According to the company's Manager of Marketing, Yuji Toda, stock pouch shapes are also available.
Available in either a 9-mm or 13.4-mm dia, depending on the viscosity of the product, the Flowpack's integrated pour tube is attached to the pouch in-line during the converting process on Fujimori Kogyo's specially configured equipment. Toda says that when compared to a standard "boat-style" pouch fitment, the tube allows contents to pour more smoothly from the pouch, refilling the primary container in just seconds with no spills.
As an option to a rigid refill container, the pouch is said to offer several sustainability benefits stemming from its lighter weight and use of less material. According to the FPA entry form, the Flowpack is roughly 75% lighter than a rigid container of the same volume, taking up just 3% of the space on a truck or in a box. "Additionally, the Flowpack realizes logistics efficiencies that would be impossible for rigid containers," the entry form adds. "Not only does it cost less to move less volume, but also the carbon emissions associated with transportation are reduced as well."
Another advantage of the pouch versus rigid containers is the significantly greater amount of space for graphics—165% more than a label on a rigid bottle of the same volume, says Fujimori Kogyo. The Herbal Essences pouch is gravure-printed in eight colors, with a metallic sheen creating a feel of luxury.
The refill pouch for Herbal Essences Conditioner was introduced in August 2013 and has been received positively by consumers, notes Toda. "The integrated tube ensures an easy, mess-free refill experience every time," he says. "The bottle won't fall over because the tube is actually inserted into the neck of the recipient bottle, and the rigidity of the tube means the pour spout won't collapse as product flows through it (i.e., none of the messy explosions associated with trying to 'restart' the flow). Consumers also like how it can be opened by hand, even in the bathroom with wet hands."
Shaped pouch delivers soft-serve ice cream experience at home
Shaped like an ice cream cone and delivering a soft-serve swirl from a custom-engineered, star-shaped dispensing fitment, the Schwan's Soft Serve Ice Cream pouch has brought home the Gold in Packaging Excellence for flexible packaging supplier Ampac. Designed to deliver the soft-serve ice cream experience to consumers at home direct from the freezer, the product in chocolate and vanilla varieties was introduced by Schwan's Home Service, Inc. in May 2013.
According to Ampac, in late 2012, Schwan's joined the company in an IDEA (Innovation. Design. Engineering. Action.) session to create a packaging system that could bring soft-serve ice cream to the consumer's home via Schwan's online grocery delivery service.
"Consumer research was conducted on the preferences of soft-serve ice cream; what soft- serve ice cream means to them personally, and what the experience represents to their family," reads Ampac's FPA entry form. "Further research indicated that consumers preferred single-serve use over multi-serve use, which then drove the direction of the ice cream pouch.
"Packaging type was thoroughly researched as well, including rigid, multi-serve, and cardboard, with the single-serve flexible pouch ranking highest. Schwan's found that since the packaging was not standard, then the experience of eating soft-serve ice cream should be enhanced, thus creating the shaped pouch and custom fitment producing the swirl effect of the ice cream from a pouch that fits in the consumer's hand."
The final pouch design has a rounded body, a flat top, and a square base and holds 8 oz of product. Ampac Vice President of Innovation and Technology Sal Pellingra describes the pouch's proprietary construction as a two-ply, adhesive lamination. "The sealant layer is a custom-extrusion film produced by Ampac," he adds.
A reclosable, 28-mm, polyethylene-based cap covers a custom fitment with a star-shaped opening that produces the traditional soft-serve look of a swirl, or lines, when the ice cream is dispensed into a cone or a bowl. The product can also be eaten directly from the pouch. Says Pellingra, "The Schwan's Soft Serve Ice Cream pouch connects very well with consumers, especially children, who instinctively put the pouch in their mouth and enjoy the ice cream, as if it was on a traditional cone."
As Ampac Senior Market Manager Millie Nuno explains, Schwan's had several crucial requirements for the package structure: it had to be able to withstand the cold distribution of Schwan's delivery system and filling in a cold environment; it had to be sturdy enough for consumers to hold and squeeze in their hand; and it had to be able to run on Schwan's existing packaging equipment.
"Understanding the capability of Schwan's current filling equipment was key in the pouch design process," says Nuno. "The spouted pouch was designed within the parameter of the filling machine specifications. The final design was chosen so that the pouch could be filled from the bottom on a current packaging machine. This impacted the shape of the pouch, as a gusset was not an option, since having a spout for the soft-serve experience was essential for the consumer experience—soft-serve ice cream at home."
The cherry on the top of the innovative ice cream package is the rotogravure-printed graphics, which depict a swirled cone of creamy product that reaches up to the pouch closure. Ampac prints the pouch in eight colors on a Windmoeller & Hoelscher press. Says Nuno, "The photo-quality graphics help represent the appearance and quality of the delicious Schwan's soft-serve recipes."
Roaring graphics devour lion's market share
A Flexible Packaging Association Gold Award for Printing Achievement acknowledges the bag/pouch graphics excellence of the Starthene Power brand, an agricultural insecticide being marketed by Mumbai, India-based SWAL Corp. Ltd., a subsidiary of United Phosphorus Ltd. (UPL), also headquartered in Mumbai. Paharpur 3P worked in cooperation with the marketing team at SWAL and the packaging design team at UPL to create the graphics and printing.
The brilliance in reverse eight-color printing on the PET substrate is achieved by a special matte surface coating. The combination of gloss and matte conveys an abstract, 3D look to the graphics and highlights the image of the lion and the lion's eyes on the packaging. A special coating with maximum haze provides a paper-like effect, and bright inks were selected to create high contrast to the matte finish.
The distinctive, highly aesthetic packaging was commercially introduced in May 2013. SWAL Corp. Business Head Vijay Kumar Bhatt comments, "The packaging has been well appreciated and accepted by all stakeholders, including distributors, retailers, farmers, and even competitors, and has helped the brand improve its positioning and market penetration."
Ghost watermark thwarts counterfeiters in cost-effective process
Ghost™ is a technology that creates an integrated, repeating watermark embedded in a flexible or semi-rigid package or in a package that uses a tray with a flexible lid to address counterfeiting and ensure brand protection. It has earned a Flexible Packaging Assn. Gold Award for Technical Innovation and a Silver Award for Packaging Excellence for its creator, Rollprint Packaging Products, Inc.
Introduced at Pack Expo Las Vegas 2013, Ghost is compatible with a wide range of materials, including polyethylene, polypropylene, and polyester. It's been proven with clear and opaque structures, and foil composites. Ghost also works with a variety of structure thicknesses, and the watermark is added during the extrusion process of one of the layers in the structure, often the sealant.
The Ghost technology is compatible with aluminum foil structures, with Rollprint's ClearFoil® clear high-barrier materials, metallized materials, or standard materials such as polyester, nylon, or oriented polypropylene. Sealants can be welded or peelable and employ a wide variety of chemistries.
Since the watermark is added concurrently during normal processing, Rollprint says it can be produced with little added cost, making it a cost-effective tool. The watermark helps support brand identity and provides visual confirmation that the products being used are authentic.
It does not require additional ingredients or additives, eliminating product compatibility concerns and allowing it to be used with existing structures. It also has no impact on the final packaging process, Rollprint says.
The key to creating the watermark, explains Rollprint's Dwane Hahn, Vice President of Sales and Marketing, "is differentially cooling the extrudate precisely enough to create a crisp, distinct image. That was the true challenge and what will thwart counterfeiters."
Rollprint performs all of the manufacturing steps and can provide the material as rollstock or as premade pouches. Ghost structures can be flexo- or gravure-printed in-line during the packaging process, or left unprinted. Rollprint would ship either rollstock or premade pouches to its customer. And while Ghost is currently being produced and sold, an end-user open to discussing how they use the technology could not be identified at press time.
The key advantage that Ghost provides is brand identity and protection. According to Rollprint, brand protection is a critical issue for brand owners. "Counterfeiting of pharmaceuticals and medical devices has become an international epidemic," notes the company. "The World Health Organization reports that more than eight percent of the medical devices in circulation are counterfeit and more than 10 percent of global pharmaceutical commerce is counterfeit. U.S. Customs reported that knock-off medical devices and pharmaceutical products accounted for nine percent of all seizures in 2012. Counterfeit products pose a very real threat to public health and a significant liability to manufacturers.
"Attempting to duplicate the watermark requires specialized equipment with knowledge of proprietary, advanced technology, coupled with significant financial investment—a particularly challenging hurdle for counterfeiters to attempt.
Brand owners have the flexibility of using corporate logos, brand names, or other symbology for the easily visible, overt watermark. This helps support brand identity and provides visual confirmation to the user that the products being used are authentic."
Ghost can also be coupled with other established techniques such as forensic markers or taggants, micro-printing, and holographic options creating the recommended layered approach to addressing counterfeiting and product diversion. For high-risk products, brand owners can create a "moving target." Because the design of the watermark can be changed inexpensively, the design can be updated regularly and tied to a lot or range of serial numbers. This additional layer of protection aims to further confound counterfeiters.
From a package design standpoint, because the watermark is made with precise control during the cooling, it creates a sharp, distinct image rather than just a smear. With this proprietary technology, complex line work and type as small as 4-pt is crisp and legible. Ghost provides a subtle image that reinforces the brand. It can be used with clear material to allow product visibility or with a foil structure to create a high-end watermark look.
The watermark is said to have no impact on sealing properties. The watermarked material sealed at the same temperature, pressure, and dwell conditions will yield statistically the same seal strength as material with no watermark, Rollprint says. Ghost does not interfere with hermetic seals and the quality of the seal is unchanged.
Rollprint says Ghost "can have a positive impact on both the economic and social pillars of sustainability. The contribution this structure makes to the environmental pillar of sustainability will be primarily impacted by the final material construction chosen."
Bottom line: Ghost is designed as an inexpensive approach to brand protection that provides a cost-effective tool in the battle to prevent counterfeiting.
"Counterfeit products and, in particular, counterfeit medical devices and drugs can result in serious adverse health effects including potentially lethal consequences," says the Ghost FPA entry form. "Those in the developing world are most at risk to being a victim of a counterfeit product. Brand protection solutions that do not adversely affect cost are one of the keys to providing the developing world tools to combat counterfeiting. The economic cost of counterfeiting to brand owners and ultimately consumers is considerable. Estimates for the counterfeit drug market alone range from $75 billion to $200 billion."
Pouches packed for millennials
When he graduated from Rochester Institute of Technology's Packaging Science program, Eric Steigelman knew a thing or two about flexible film. After four or five years of employment at a major producer of flexible films, he knew considerably more.
So when he recognized an opportunity to leverage the unique properties of flexible film to market wine in something other than a glass bottle, he jumped at it. He readily admits he didn't know that much about wine at the time. "But," he points out, "what I did know is that if you can make a package more convenient, more sustainable, easier to open and reclose, and easier to use overall, you have a recipe for success."
The wine Steigelman came up with is produced by a contract manufacturer in Hopland, CA. The same firm packages the wine in a 1.5-L standup pouch with an integral tap at the bottom through which wine is dispensed. In this year's annual Flexible Packaging Association Achievement Awards, the pouch won a Gold Award for Packaging Excellence and a Silver Award for Sustainability and Environmental Achievement.
Pouch Converting Technologies makes the standup pouch from film produced by Curwood. According to Curwood, this is the first "barrel-style" tap pouch with a tapered shape. In addition to appealing to millennials, the key target demographic, the tapered shape adds stiffness to the package to absorb and prevent sagging both during retail and in the consumer's home while the pouch is in use.
The material from which the pouch is made is a three-layer extrusion lamination. Step one is gravure printing of 48-ga polyester. The primary graphics are reverse printed and then, in the same pass, the web is turned so that registered matte effects can be printed on the opposite side. Pouch graphics incorporate rich, saturated colors pulled from fashion trends popular with millennials. Up close, the combination of fine screens and matte and gloss effects creates a dimensional, textural appeal.
The printed polyester is taken to a duplex extrusion laminator and married to a metallized polyester. In a second station, Curwood's Liquiflex® Advance™ multilayer coextrusion is added. The Liquiflex Advance material, which is the product-contact layer, has excellent organoleptic properties to prevent flavor scalping and imparting of unwanted flavors into the wine.
At Pouch Converting Technologies, this three-layer lamination is the only web used to make the pouch. According to Curwood, this results in three fewer seams than would be found on standup pouches made from more than one web. Also, the material is engineered to deliver the stiffness required for retail display and consumer use while remaining soft enough to withstand ASTM-standard drop tests.
The pouch is convenient to open and dispense using a built-in tap. The tap has two tamper-evident seals. One is a tear-off strip of plastic that's molded right into the tap. The other is a piece of induction-sealed foil that must be removed. The tap also prevents oxygen ingress into the package after the induction-sealed foil is removed. This further protects the contents and permits consumption up to four weeks after opening.
As for sustainability, the pouch requires one truckload for every 14 truckloads needed when glass bottles are being transported to the filling line. More comparisons, says Curwood in its FPA entry form, come from an FPA study of glass vs. flexible packaging:
• a pouch is about 1/30th the weight of a bottle
• a pouch uses less than one-seventh the energy over its life cycle
• a pouch emits less than one-fourteenth the CO2 over its life cycle compared to glass
All of which explains why Bonfire displays this message so prominently on the front of the pack: "80% less carbon footprint."
Filling equipment used for the pouch was custom built for the California wine maker and had been used for other products prior to the launch of Bonfire wines. The premade pouches are fed by hand, and with each cycle the machine fills through the tap. Filling doesn't exceed more than about 10 pouches/min. Seigelman admits that will have to be addressed, especially since market testing in Chicago and Colorado, which began in November, has been a big success. That means it's time to expand distribution this spring. The 1.5-L pouches sell for about $16.50.
The Hillshire Brand Company 'steam dome'
Winning a Gold Award for Technical Innovation was The Hillshire Brand Company's Heat Fresh™ pouch. Used for frozen breakfast sandwiches, this package is produced on a horizontal form/fill/seal system. Both forming and nonforming webs come from Curwood.
This package lets consumers heat a frozen sandwich right in its package in one easy step and still have the bun or bread come out perfectly soft and moist instead of soggy, hard, or dried out. To accomplish this in the past, consumers had to remove the sandwich from the package, wrap it in a paper towel, lower the power setting, heat the sandwich, turn it, and heat it again.
What The Hillshire Brand Company and Curwood did with this award-winning package is combine two proprietary technologies in a unique way to optimally control moisture, heat, and pressure in the package during microwave heating. The nonforming web, which becomes the base of the package, is a two-layer extrusion lamination of oriented polypropylene and a non-woven material. This laminated structure, which has a cloth-like look and feel, has important moisture-absorbing properties. Curwood and The Hillshire Brand Company believe it is the first use of this kind of structure in food packaging.
Meanwhile, the forming structure is a proprietary coextruded 6-mil ICE R film consisting of a nylon exterior along with a PE sealant. (ICE is an acronym for Internal Coolant Exchange, a proprietary rapid quench process that's exclusive to Curwood.) The two webs, forming and nonforming, essentially create a moisture equilibrating "steam dome" that allows for efficient use of steam while excess steam is absorbed.
During heating, moisture created by the heat cycle rises to the top of the package, rolls down the sides, and is absorbed by the non-forming film. This eliminates the problems of soggy or cardboard-like bread. At the same time, pressure is created within the package to drive heat into the sandwich core for controlled, even heating of meats, cheeses, and other sandwich components. The package is also designed to self vent so that it doesn't burst in the microwave. Finally, it's easy to peel open.
"We've all seen the steam-in-the-pouch packages for frozen vegetables," says Jeff Czarny, Principal Packaging Engineer at R&D at The Hillshire Brand Company. "In that case you want as much moisture as possible in the package. But with a product that contains a bread component, you must carefully control the moisture so the bread doesn't get soggy or hard. With this package we leverage the steam dome for cooking, but we add the equivalent of a paper towel on the bottom to absorb moisture. What it comes down to is an extraordinarily effective use of steam that makes this special."
Consumers take a sandwich from the freezer and microwave it on High for 60 to 90 seconds. With no fuss or muss, the sandwich is ready to eat.
The first two SKUs to come out in the Heat Fresh pouch are Jimmy Dean brand breakfast sandwiches. Both are produced on thermoform/fill/seal machines. Depth of draw varies depending on which product is going into the pouch, but it's typically in the range of 50 mm.
Czarny says that the innovative materials used in this package required that close attention be paid to tooling, film handling, and sealing. "With that non-woven material in the picture, it's not a typical polymer-to-polymer seal," he points out.
Printed interactivity
Interactivity is all the rage in packaging these days. There's no better example than the Gogurt package that won a Gold Award in the Printing Achievement Category of the 2014 FPA Awards.
Brand owner General Mills wanted to create a promotional item that would coincide with the release of the "Despicable Me 2" movie. They called on Printpack to create a package that changes a minion (the minions are characters in the movie) from purple when refrigerated to yellow as the user's hands warm up the package.
Working with Segan Industries, Printpack refined a thermochromic ink technology to deliver these results while remaining kid friendly. This package is printed flexographically in seven colors. A three-part color-changing system was developed using yellow as the base with a combination of red and blue thermochromic inks to create the purple. This is said to be the first time that thermochromic inks had successfully been used on flexible packaging with a non-formaldehyde formula to create this dramatic a color change. These enhanced graphics were created with a thermochromic ink system on polyester with a PE sealant extrudate and an oven-based curing system.
Stand-up pouch for LEGO Hero Factory delivers BIG benefits
Although its individual LEGO brick toys may be small, privately held LEGO Group, based in Billund, Denmark, thinks and acts plenty big when it comes to sustainability. Take the following two points from its website, for example:
• "The LEGO Group wishes to produce more renewable energy than it consumes."
• "Only ten percent of the total carbon emission from the entire value chain related to LEGO products originates from the processes taking place at LEGO factories during molding, decoration, and packaging of LEGO bricks."
Given its social responsibility efforts targeting environmental issues, it's no surprise that the company was involved in a project that earned its partner Sonoco a Flexible Packaging Assn. Gold Award for Sustainability and Environmental Achievement. Specifically, FPA recognized the LEGO Hero Factory shaped, stand-up pouch, a package combining several packaging features that make it an outstanding example of printing technology and packaging convenience. The substrate: 48-ga PET/ink/adhesive/3.5-mil white linear low-density polyethylene.
For the LEGO Hero Factory project, Sonoco conducted artwork management, separation, cylinder engraving, and printing/laminating of the rollstock, managed the conversion into a pouch, and then did the actual product packout—putting all the little Legos in the pouch at its packaging fulfillment center.
The package offers an easy-open, cut-off top and convenient press-to-close reclose feature for after-use parts storage. These features represent on-the-shelf visual improvements with the upright billboarding capabilities of the stand-up pouch, which, says Sonoco, is a merchandising improvement over previous rigid paper cartons and plastic canisters. "In terms of shelf impact, the bright graphics, high-gloss surface, and uniquely shaped, stand-up pouch made for greater on-the-shelf visibility," says Sonoco. "At the same time, the pouch [meets] consumers' desires for greater convenience with after-use storage of parts provided by the easy reclose feature, which is an added benefit for parents and kids."
To meet the demands of the high-impact graphics, Sonoco employed its internal graphics management team, Sonoco Trident, to produce the rotogravure cylinders and separations. The use of the gravure process was instrumental in delivering the intricate detail needed for the Hero brands. The fine-screened colors are produced from both line and process colors. Tight registration and color control ensure precise detail and color balance on the package, says the company. By having the close alignment with the graphics, Sonoco delivered the print consistency and "pop" required for attracting the consumer's attention away from the normal clutter in the toy aisle.
Sonoco points out that the stand-up pouch is a new package format in the toy market, replacing the usual rigid paper carton or plastic container. By designing the shape of the pouch to match the configuration of the built toy inside and using impactful action graphics, the package creates an on-the-shelf, graphic representation of the finished product.
According to Sonoco, the new pouch delivers 80% less packaging weight than the prior rigid paperboard or plastic formats. Using the PIQET life-cycle indicator tool, Sonoco has shown that the pouch reduces water use, energy use, the carbon footprint, and solid waste.
Depending on package size and prior format, the reductions range from 30% to 95%, according to Sonoco. Specific percent reductions, it says, are as follows:
• In water use, the pouch delivers a 76% reduction versus a paperboard box, and 95% versus a plastic canister.
• In energy use, the numbers are 29.9% and 87.6%, respectively
•In carbon footprint, the numbers are 64.6% and 91.4%, respectively
• For solid waste, it's 34.5% and 85.1%, respectively.
Double Gold for pet food bags
A pinch/slider woven poly bag used by Natural Life Pet Products, Pittsburg, KS, and manufactured by Coating Excellence International (cei, www.coatingexcellence.com) is the recipient of FPA Gold Award honors in both the Packaging Excellence and Technical Innovation categories. Natural Life Pet Products has created a complete, specially formulated, natural line of products that addresses food allergies, ingredient intolerances, and other special dietary needs for dogs and cats of all ages and activity levels.
The cei-patented woven poly bag design is said to be the first and only such structure currently on the market with a high-integrity heat-sealed pinch bottom and easy-open/reclose slider zipper top. The slider zipper closure allows consumers to open and reclose the package with ease, keeping the product fresh for storage in the original packaging.
Most woven poly bags in the marketplace require either sewing the end of the bag or using roll-fed tape to close the end of the bag because the oriented polypropylene material in typical bag structures is not easily and reliably heat-sealed with high-strength integrity by means of conventional sealing techniques. cei was able to develop an adhesive sealing technology for woven poly bags that works reliably and allows the incorporation of both a pinch-bottom seal and a top zipper reclose feature. The slider zipper is applied using customized equipment at cei before the bags are shipped to the customer. The bags are filled using existing conventional filling equipment with minor mechanism modifications.
Compared to conventional multiwall paper bag structures, cei says this durable, puncture- and tear-resistant barrier bag offers marketers outstanding product protection, retail shelf differentiation, and expanded branding opportunities due to larger consumer-facing panels. The strength of the woven poly bags can be an estimated tenfold over conventional multiwall paper bags. According to cei, there is an estimated 75% reduction in packaging damages and product losses throughout filling, transportation/distribution, storage, and marketing channels.
Due to the strength of the woven bags versus paper bags, the woven poly bag materials can be downgauged without sacrificing product protection, cei says. And double the amount of woven bags may be loaded per pallet compared to paper, resulting in less handling, storage, and transportation costs.
Available in gloss or matte formats, these bags are reusable and recyclable, and are printed using 100% water-based inks. The woven bags facilitate reverse-printing on the outer OPP layer, and scratching, rub off, and other damage to the printing and graphics are minimized.
Natural Life Pet Products launched the new packaging in February 2013. Current sales venues include national retail stores and online. Kaleb Terlip, COO for the company, notes, "This packaging, with the reclosable zipper, brings a very nice convenience to our customers. And we appreciate the working relationship with Coating Excellence International to help a small company develop a completely new package for the marketplace."
Click here to view a list and photos of the 2014 FPA Silver Winners.
Companies in this article
An unexpected error occurred: Timed out after 10000ms