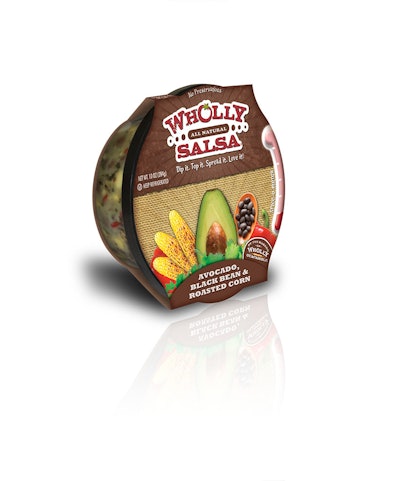 Fresh, whole ingredients are the focus of package graphics for eight varieties of salsa dips under the Wholly Salsa line—a brand extension of Fresherized Foods' Wholly Guacamole product. Originally introduced in 2009, the salsa brand was refreshed in 2010 with new packaging sizes, new flavor profiles, and an entirely new packaging look. Most recently, the company added a new variety, Avocado, Black Bean & Roasted Corn, to its lineup of eight salsa flavors in mild, medium, and hot selections.
Wholly Salsa products are packaged in a 10-oz round, lidded plastic container with a paperboard sleeve bearing graphics with a warm, Southwest-inspired color palette. Created by the company's in-house design department, Fresherized Foods' Vice President of Marketing, Tracey Altman, says the color themes, logos, and fonts were designed to be consistent throughout the line and stand out on shelf.
"We had several rounds of packaging mocked up where we actually took them to stores, put them on the shelf next to our other products, and took pictures," Altman says. "This really gave us insight on colors, where messages were placed on the packaging, and how to deal with whether or not the shelf had a lip on it. It's a great insight we could not have gotten otherwise."
Important to Fresherized Foods was to depict product ingredients—tomatoes, mangos, corn, and onions, among them—in their whole form. "We started out with these as illustrations," Altman relates, "but have recently moved to real photography of the food to really express the all-natural ingredients found in the product."
Ingredient images are appetizingly arrayed on the bottom of the sleeve against a rustic, burlap background, in a sunburst-type pattern consistent with the "rays" used on Wholly Guacamole packaging. Packaging is color-coded to signify variety, with each one having a heat meter "to help customers navigate the spice level of the flavors," Altman explains.
With the launch of the new Wholly Salsa bean dip, the company also launched two bean dips in the Wholly Guacamole line, using the same packaging format as the salsa line, and with many of the same fresh ingredient graphic elements.
Companies in this article