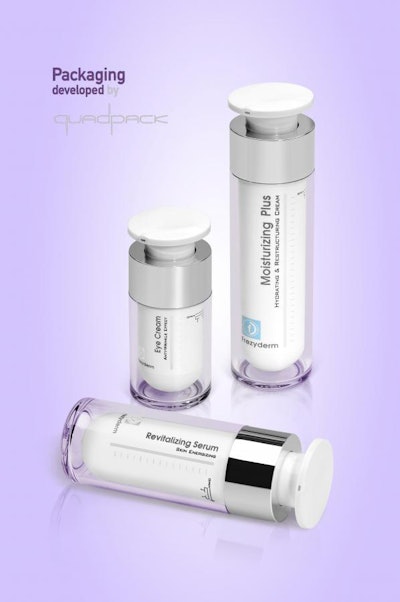 There are a number of best practices you can follow to design a package and its various components that meets your product's marketing and production requirements today and in the future. Here are 10 of the most important ones.
1. Coordinate suppliers. Early in the process, meet with all of your container, film, closure, label, and other pertinent suppliers to work out specifications. Labeling, filling, and capping machinery suppliers need to be part of those meetings as well. Brand owners that rely on contract packagers are especially at risk for potential problems. Contract packagers must be involved early on to ensure that there are no issues with product fill temperatures, container handling, or sealing using existing equipment.
2. Evaluate stock versus custom. Many different looks can be achieved by pairing stock containers or other standard materials with creative colors or labels. However, distinctive or unusual shapes remain the best way to grab consumers' attention and establish a brand purchasing loyalty. And custom shapes are on the rise, especially for brand owners trying to stay a step ahead of private-label brands. One major packaging container distributor reported that 10 years ago, only 5% of its business was custom; today, it's 50%. When custom containers are developed, consider applying for a design patent to protect your brand equity against lookalikes.
3. Understand when to work with distributors. In the not-too-distant past, distributors of containers and materials would broker smaller initial quantities and scale up as needed. Today they do much more. Brand owners rely on distributors to have detailed regional knowledge of what manufacturing capacity and capability exists and where to best match a manufacturer to a project. Distributors also can help assemble an entire package, down to the closure and label. They can manage the complexity of broad geographical just-in-time delivery, ensuring the right components show up at the right plant just in time for production. Larger distributors have even evolved to include full-blown, in-house design firms with creative designers on staff. Distributors have also become financiers of custom tooling, offering creative ways to subsidize the cost by building it into the per-piece price.
4. Cut out the middleman. There are also advantages to working directly with a material, container, or closure manufacturer. Manufacturers sometimes can be in a position to provide a quicker response to complaints or issues. Also, some may offer technical services to their customers for free, whereas some distributors may charge. Ultimately, decide what services you need given how widely you sell your product, how robust your internal resources are, and how much you'll need or want to outsource some tasks.
5. Accelerate package design changes. Most CPG companies are dissatisfied with their ability to make quick packaging changes. The culprit may be a reliance on the increasingly outmoded, traditional approach of creating innovative, new package concepts for individual brands and packages. To accommodate changes, many brand owners are starting to actively invite suppliers to pitch new ideas during an "innovation day." The goal is to review all new ideas at once and apply them across the entire brand portfolio where and when it makes sense to do so.
6. Don't miss the forest for the trees. Don't look at package components such as the container, label, and closure in isolation. Always consider how these components, working together, ultimately are going to be displayed in the context of the shelf set. That beautiful label design might be obscured by your special retail-ready display once it's assembled and on the shelf. The ready-to-drink, or RTD, category has recently seen many design changes to keep its flavor names at the top of the package for maximum visibility in the visi-coolers commonly found in convenience stores.
7. Don't lose sight of the consumer. The focus must always be on the consumer and what attributes of the package concern them. What consumer attributes are you addressing on the shelf? Consider emotional or physical needs, such as easy opening or cleanliness of access. Balance what the consumer wants and needs with the need to maintain food safety and package integrity equal to the rigors of distribution.
8. Design with equipment constraints in mind. Many companies begin with a discussion with the filler manufacturer to determine ideal container parameters or constraints. Flexible and rigid designs alike can be created with these ideas in mind. Solid models can be presented both internally and to customers for final determination. Closures, labels, and package sizes can be discussed for best presentation, depending on container shape. Plant operations should determine overall handling and potential problem analysis. Only then should prototype molds be ordered to provide actual samples for testing.
9. Don't let the desire for sustainability gains "snake-bite" you. Sometimes the pursuit of innovation can push the proverbial envelope too far and too soon. This is especially true when lightweighting bottles or engineering reductions in films or corrugated materials. Properly engaging these sorts of technologies and initiatives means considering at which point the integrity of the package, or the production and delivery of it, will be adversely affected, and staying within that boundary.
Likewise, be careful not to overreach. For instance, designers may want to move forward aggressively on sustainability or other initiatives that, if done without cross-functional teamwork, can adversely affect production goals such as the need to deliver cost reductions on machinery that may require special retooling or automation tweaks to accommodate "greening."
10. Remember, different channels require different strategies. Consider a manufacturer with three channels: grocery, c-store, and foodservice (hotels, restaurants and cafes, in-store deli departments, etc.) Depending on where the product is sold, the package will be different in terms of size and material. Of course, packages can differ within these channels as well. For instance, glass is more prominent in premium channels such as upscale venues vs. mainstream retail grocery aisles, where profit margins are typically thinner. Perform research on consumer motivations, format size preference, and category expectations for each venue.
Liked this article? Download the entire playbook here.