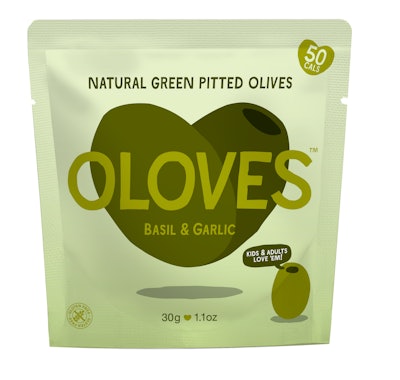 U.K.-based Brand Stand Ltd. has redesigned the packaging graphics and added some flavorful new varieties to its line of liquid-free, pit-free olives for portable snacking. "The first-to-the-market snacking olive at 30 g"—according to Brand Stand founder and CEO Matt Hunt—Oloves in a 1.1-oz standup pouch has sold 10 million bags since being introduced nearly six years ago. With competitors copying the brand's silver-colored bag design and product flavors, Brand Stand decided this year to update its brand, using its in-house design talent.
"To remain on top, you have to constantly innovate and change, and this was the idea behind the refresh," says Hunt.
Another reason for the redesign, Hunt adds, was to position the product for new markets like convenience and on-the-go lunches. "We are introducing Oloves as a healthy alternative, to be sold in the same trays, baskets, and snacking sections in which you would find the usual snack products," he says.
With the redesign, the formerly matte-silver stand-up pouch with classic imagery now features a contemporary, urban look and uses pastel-like background colors that correspond to the new flavor varieties. Oloves with a Basil & Garlic marinade is in an olive green-colored pouch, Chili & Oregano is in pink, and Lemon & Rosemary is in yellow. (The petite, three-layer pouch is made of a proprietary film construction and is converted by Mondi Bags Austria GmbH Zeltweg.)
Carried over, but tweaked, from the former design is the Oloves logo—two olives positioned to form a heart shape—which comprises the main graphic element on the package. In the original design, the olives are realistic renderings, encircled with a banner bearing the Oloves name. In the new, contemporary design, the heart icon is more cartoon-like, with the brand name written across the icon in modern lettering.
A 'talking olive' in the bottom right-hand corner of the package proclaims, "A whole lotta' love!" The balance of the information on the front of the bag supports the healthy, all-natural brand message, with copy such as "Natural Green Pitted Olive," "50 cals," and "Gluten Free."
Hunt says that with the repositioning, Brand Stand has given consumers some other reasons to love the brand as well, by increasing the size of the olives used and introducing a Ripe Black Olive variety in a spicy harissa and garlic marinade.
Oloves are available in 14 countries in a range of retail stores as well as in airports and airport lounges. The snack pack is priced at $1.25 in the U.S.
Companies in this article