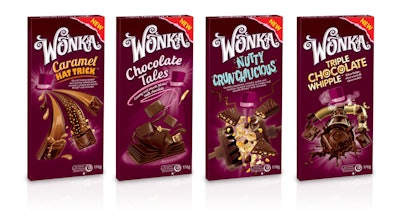 Global brand and design consultancy bluemarlin has created strategic brand positioning and packaging for a new range of WONKA chocolate blocks, designed for family sharing in Australia and New Zealand. The Nestlé brand's initial offering launched in August 2013 and includes four variants: Triple Chocolate Whipple, Nutty Crunchilicious, Chocolate Tales and Caramel Hat Trick.
Bluemarlin's Sydney, Australia, studio was involved in a series of creative exploration workshops to uncover the unique areas for WONKA to develop. The goal was to capture the anticipation and excitement that people associate with the brand, and bring it alive through packaging.
Roald Dahl's children's book "Charlie and the Chocolate Factory" was first published in 1964 and has captured the world's imagination ever since. In order to reignite the modern day interpretation of the slightly weird and wonderful world of WONKA chocolate, the designers were encouraged to "let their imaginations run wild." The result is packaging that illustrates some of the top-secret and wildly spectacular magic that takes place at the world's most famous chocolate factory. WONKA's signature burgundy holds the range together and creates strong color blocking at shelf.
"Anything is possible in the world of WONKA," comments Polly Williams, Associate Creative Director of bluemarlin. "Our aim was to vividly communicate the magic and wonderful strangeness of that world while also creating a strong foundation for further explorations."
"WONKA is a beloved brand that the family can enjoy," says Lisa May, Head of Marketing, Confectionery & Snacks for Nestlé Australia. "There is so much nostalgia surrounding the brand, and people have a strong connection from their childhoods. Bluemarlin has successfully updated the design, capturing the pure imagination of the past and making it relevant for today."
According to bluemarlin, WONKA's new chocolate range is already achieving spectacular success in Australia and New Zealand.
Companies in this article