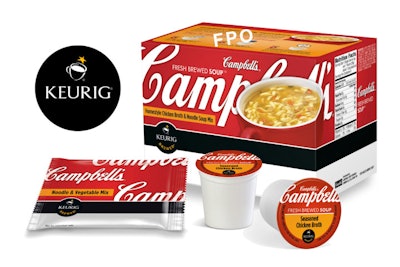 The idea is to offer consumers the taste and experience of Campbell's soups in a convenient snack that can be prepared at the touch of a button in Keurig brewers.
Snacking is a growing behavior among U.S. consumers, with more than half snacking multiple times a day. Consumers are also looking for snacks that serve as mini-meals to satisfy hunger, and there is an increasing need for ultra convenient options. Campbell's Fresh-Brewed Soup was designed to meet that consumer need.
"This innovative partnership is a win for consumers and for both companies, and represents another important step as Campbell expands into higher-growth spaces," says Denise Morrison, President and Chief Executive Officer of Campbell Soup Co. "Campbell is connecting with consumers in new and exciting ways. We expect this delicious Campbell's Fresh-Brewed Soup to provide consumers with a flavorful, convenient soup that fits their lives today."
"Campbell's is an iconic brand that shares our focus on harnessing innovation to delight consumers – making them an ideal partner as we take this first step beyond beverages for the Keurig system," said Brian P. Kelley, President and CEO of GMCR. "The union of Campbell's great taste and the speed and convenience of Keurig invites new consumption occasions and positions both companies to better meet the growing snacking needs of consumers in the U.S."
Campbell's Fresh-Brewed Soup uses proprietary Keurig manufacturing expertise to seal in the ingredients' peak flavor, and Keurig's single-serve knowledge to release an authentically delicious, perfectly-portioned snack. Combining the trusted properties of a Keurig Brewed K-Cup pack and Campbell's savory recipes, Campbell's Fresh-Brewed Soup will deliver a flavorful hot broth through the ease and convenience of the Keurig brewing system, say the two companies. Campbell's Fresh-Brewed Soup consists of a broth K-Cup pack and an included packet of dry pasta and vegetable blend garnish. Consumers simply brew a broth K-Cup pack over this garnish to create a satisfying snack in minutes.
The companies expect to launch three varieties of the new soup, including Homestyle Chicken Broth & Noodle, in 2014. They also expect Campbell's Fresh-Brewed Soup will be offered in the same aisles and retail sections of stores where Keurig Brewed K-Cup pack varieties are sold.
Companies in this article