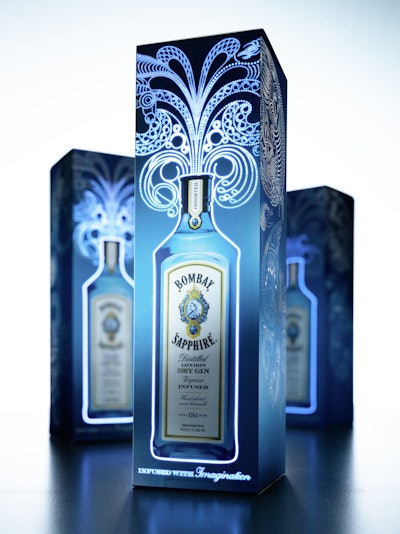 The latest prize comes from OE-A, the leading global association for the organic and printed electronics industry. This organization picks innovative concepts in four categories that illustrate the capabilities of organic and printed electronics and presents each concept with a Demonstrator Award. This year's Demonstrator Award in the Best Design category went to the Bombay Sapphire package.
Karl Knauer KG of Germany is the developer of the package, which is described as "probably the first freely available packaging with printed, actively luminescent surfaces." Karl Knauer KG created the packaging for Bacardi with proprietary technology it calls "HiLight – Printed Electronics." Development involved close cooperation with Rox Asia Consulting and designers Webb deVlam.
As soon as the customer picks up the packaging at the point of sale, an innovative and intuitive mechanism activates the light animation on the front side of the packaging. A five-stage light sequence is shown to the potential buyer. First the bottle image and then the fine luminous design elements are shown. The cycle lasts a total of eighteen seconds. It then stops and starts again when the package is moved again.

"With a previously unachieved capability for a package to draw attention, this innovative, luminescent folding box for the product Bombay Sapphire sets new standards for brand presentation at the point of sale," says Martin Glatz, marketing director at Karl Knauer, as he introduced the packaging. The presentation on the shelf at the point of sale features a luminous Bombay Sapphire packaging in a black "treasure chest" behind the glass that draws attention to the shelf. As soon as the customer picks up the box, the animation starts.
This innovative technology is based on electroluminescent substances that trigger the light animation on the front of the box as soon as it is picked up. The packaging for Bombay Sapphire is unprecedented and represents a groundbreaking innovation on the packaging market. It means a completely new dimension of packaging quality. 
"Innovation is our motivation – and successes on the market are a confirmation for our way of thinking and acting. Forward-looking clients like Bacardi make such trend-setting projects like the luminous packaging for Bombay Sapphire possible," says Glatz.
Glatz also observes that an attention-grabbing package must not be disposed at the expense of the environment. Therefore the Bombay Sapphire box is CE-certified and it meets RoHS environmental requirements. After batteries are removed, the packaging can be disposed of in the usual manner. The innovative light animations can continue to be displayed by simply replacing the batteries. So the box can be used for a long period of time while retaining its value.