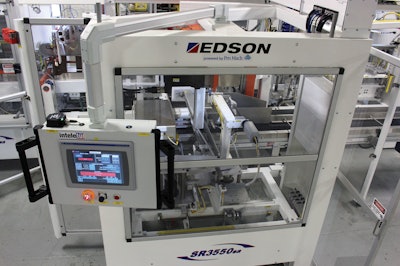 During the development phase of their newest line of case packers, machinery maker Edson Packaging, part of the ProMach group, identified fast, error-free part changeover as one of their customers' primary areas of concern. Customers were requiring more size changes per shift and needed to reduce the typical changeover time of 30 minutes or more.

In response to this customer requirement, Edson developed its Servo Adjust and Inteletül™ systems. According to Jeff Werner, vice president of technology at Edson, "With these technologies, customers are able to reduce their changeover time from 30 minutes down to five while eliminating potential human errors."

Inteletül uses Radio Frequency Identification from Balluff to track and manage change parts. This offers an error-free method to identify the tools needed for proper setup. Edson has been successfully using Balluff's basic discrete RFID systems in their machines for several years. But customers were asking for more information on their tool, such as meaningful descriptions, size change "recipe" information, and tool management data. By having this level of information, customers can share tools between machines, automatically identify size change recipes, and incorporate a new level of predictive maintenance.

Balluff was able to help Edson achieve their goals by moving from a discrete RFID-based system to an Ethernet/IP-based RFID system, utilizing Balluff's distributed modular architecture. The foundation of this expandable architecture is built around the open industrial standard IO-Link. With the use of IO-Link, Edson is able to connect their seven RFID read/write stations to only two Ethernet/IP nodes. "Moving from discrete to Ethernet/IP saves time and money on wiring costs and reduces IO point count, while providing additional system-level diagnostics," says Werner.

With this Inteletül technology, the customer no longer needs extensive training for their machine changeover and consistency of machine setup and operation is now realized. Proper maintenance is also assured by using tool management data that includes information such as manufacture date, usage levels, and preventive maintenance schedules, all of which is stored directly on the tool.
Companies in this article