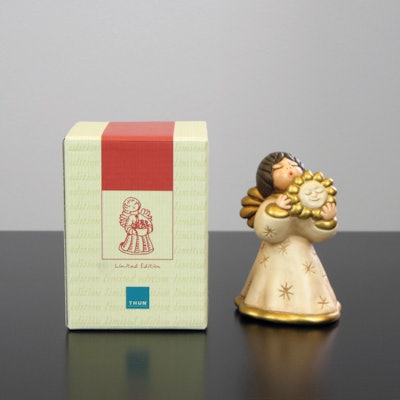 Remember the last time you ordered a product from a catalog or e-commerce company only to have the item arrive packed in a box twice its size, along with what seemed like yards of air pillows, packing peanuts, or other protective packaging? If you are like many consumers today, you were probably dismayed by the waste. You may have even wondered if this type of inefficiency was characteristic of the company overall. More and more, packagers are becoming aware of this negative consumer perception as well as the bottom-line financial costs associated with using oversized boxes for their shipments. Transporting air is a costly proposition.

In Mantova, Italy, Door 2 Green Srl, the logistics and distribution arm of Italian ceramics giftware company Thun, has taken the first step toward alleviating this logistics loss and improving their customer satisfaction. In November 2012, the company began implementation of a new converting technology that allows for automatic forming, gluing, and printing of custom case sizes. When fully operational, the Freebox™ from System Packaging, a division of System S.p.A., will create a made-to-measure case for each of the nearly 7 million less-than-case-size orders that ship annually from the facility.

In March 2013, Massimiliano Cerini, in charge of technology installations and maintenance at Door 2 Green's Mantova facility, guided Packaging World on a tour of the 35,500-sq-m (approximately 116,000-sq-ft) operation in Northern Italy. While the visit was conducted during the one day per week when the facility is closed for maintenance and restocking, the Freebox was still being put through its paces, as Door 2 Green continued to work toward full implementation of the system.

Shipments in the millions

Thun is a family-owned company, based in Bolzano, Italy. Established in 1950 as Thun Ceramic Works by Count Otmar and Countess Lene Thun in the cellars of their home, Castel Klebenstein, the company specialized in handmade ceramics giftware—its most popular creation the Original Bolzano Angel. Today, the company offers a wide range of products, including jewelry, housewares, baby clothes, and handbags, in addition to its handmade painted ceramics. Items are sold both in its dedicated stores—there are about 1,600 in Europe—as well as through its catalog and via its Web site.

The Door 2 Green facility in Mantova distributes nearly 12 million pieces/year to thousands of customers in Italy and Spain. Located on several levels, the facility's picking areas are stocked with 10,000 SKUs. On the ground level, operators use a pick-to-voice system to pick small, high-volume items. Levels 2 and 3 use pick-to-voice systems for larger products.

The core of the cavernous warehouse, however, is its sorting machine, a €10 million (US$13 million) automation system—said to be the largest in Italy—that manages collecting, bundling, weighing, labeling, sorting, and loading of products to carriers at 19,500 items/hr. Nearly 4,000 ft of fully automated conveying equipment connects the picking operation with the sorter and the packing stations.

When the plant is in full swing, products in their primary packages are picked and sent to a conveyor that carries them through the sorting system. A scanner reads a bar code on the package and sends the item to one of 92 double level stations, comprising 184 chutes. Under the current system, operators at each station, or chute, scan the items to learn which box size should be used and to ensure each item of an order is placed in the box. Boxes are then directed to a filling area, where AIRplus air pillows from Storopack are added to fill the box, after which they are sealed and ready for palletization.

Currently Door 2 Green is using the Freebox machine to produce three box sizes, ranging from 8 x 10 x 6 in. to 16 x 20 x 18 in. The full implementation of the custom box-making system is dependent upon the completion of specialized software from System Packaging that will calculate the volume of the items in each order to direct the machine in creating an optimized case size. The other component necessary for Door 2 Green to get the full benefit of the Freebox system is installation of System Logistics' MOPS™ (Modular Order Picking System), a full-case order picking system that allows for automatic case picking and building of pallets with cases of different dimensions. At presstime, installation of the software and the palletizing system are expected in the near future.

Technology tested in ceramics

Freebox is a relatively new technology, born out of System's core business: ceramics. Since 1970, Modena, Italy-based System has served the ceramic tile industry, producing equipment to decorate, package, and palletize tiles. Through the years, the company has launched five other divisions—Logistics, Lamina, Electronics, Photonics, and Packaging. According to System product manager Umberto Richichi, the Packaging division, which offers end-of-line equipment, is the youngest and fastest growing of the six divisions.

The forerunner of the Freebox is the 4Phases™ Frame, developed by System Ceramics to cut production costs, automate the manufacturing process, and simplify the packaging procedures for flat ceramic tile. The 4Phases creates corrugated cases from a sheet of flat, unprinted cardboard, forming an open-top box to fit the product. The solution resulted in flexibility and a cost savings in material of 60% for ceramic tile producers, so System evolved the technology for use with all types of packaged product in the form of the Freebox.

The Freebox system was introduced in 2012 and uses two 48 x 48-in. sheets of corrugated to form boxes in a range of styles and dimensions, including American boxes, trays, and lids, and telescopic boxes, in accordance with GIFCO-FEFCO, with less than 1% material waste. In contrast, System Packaging notes that the quantity of cardboard wasted during production on a sheet feeder can be anywhere from 9% to 24% with conventional systems.

According to Richichi, System selected the 48 x 48-in. format because it was the most efficient size for paper converters to produce. Freebox customers can purchase the material directly from a corrugator in a range of thicknesses and even colors. Depending on the case size, a packager can achieve savings from 17% (for a 200 x 300 x 200-mm box) to 36% (for a 400 x 600 x 200-mm box) in corrugated.

According to System, stocking the 48-in. sheets of corrugated can also provide a big space savings for packagers. Whereas a pallet of premade boxes bound for a case erector consists of roughly 250 boxes/pallet, 600 to 700 sheets of corrugated can be supplied on one pallet for the Freebox—for 50% or more boxes per pallet. According to Richichi, one Freebox customer eliminated an entire warehouse of preprinted boxes through use of the Freebox. Also eliminated were the plastic strapping material and extra corrugated used to ship the case blanks.

The Freebox consists of two stations that cut each half of the box. The corrugated material is cut into strips, formed, and attached with hot melt glue. The resulting box has four reinforcing corner pieces and a seamless bottom panel. Due to the way the box is constructed, a lighter-weight material can be used on the bottom panel, while a heavier piece is used for the header, saving material costs. This construction also results in a box with up to 30% greater stacking strength and crush-resistance than one made from a traditional case blank—a claim certified by TÜV. And, because there is no seam on the bottom of the box, the pack lies flatter.

The machine comes in a Standard and a Flex version, both of which can operate at speeds of four to seven boxes/min. The Standard version can create boxes that are 8, 16, or 24 in. wide; the Flex version—the style installed at Thun—creates boxes in 0.04-in. increments. Both can produce boxes with depths and widths in 0.04-in.-wide increments, for a possible 110,000 different box sizes and shapes.

Before cases exit the machine, they can be printed in up to four colors with a customer-specified ink-jet printer, with a resolution of 185 dpi and a height of 2.5 in. At Door 2 Green, boxes are printed with Thun's trademark teal-colored logo, arrows indicating "up," and a glass symbol denoting a breakable item inside. Once the Freebox system is fully optimized at Door 2 Green, each custom-made box will be printed with a bar code that signifies the order to which it belongs, as well as the shipping label. Each case will then be directed to the proper packing station, to join up with the items to be packed in that box. Because each box will be made to measure, without extra space in the box, air pillows will no longer be required—resulting in additional packaging material savings. In the U.S., Freebox is distributed by Matik Inc..

Flexible, safe system

The Freebox, with its cutting, forming, gluing, and printing stations, encompasses a 100-sq-ft footprint and is completely enclosed by panels that can be opened for access to the machine. Nine video cameras at the front of the machine allow the operator to monitor every process phase. Images recorded by the cameras are stored for 10 days, providing a diagnostic chronology.

Cases can be produced as a one-off, where the operator manually keys in the box dimensions, using the Copilot touchscreen interface from System Electronics. With this method, a panel on the front of the machine slides open to deliver the single finished box. For continuous production of dimensionally different box sizes, packagers can employ the FreeData system, which carries out visual and dimensional product recognition to create each box to the right size. This is the method Door 2 Green will use when its system is optimized.

As Richichi explains, System Packaging uses a database spreadsheet to determine the potential ROI for customers interested in employing the Freebox. In the business case for Door 2 Green, Richichi estimated a savings of more than €200,000 (US$260,000 plus) per year, based on savings in logistics (27%), labor (26%), raw materials (19%), shipping (18%), and process (10%).

"The savings in raw material is just a small part," Richichi says. "Shipping, logistics, and labor also play a big part. Freebox has the potential to change logistics."

This bottom-line savings translates into a more environmentally friendly option—a choice that also appealed to Door 2 Green, which promotes Lean Six Sigma programs and uses clean energy produced by renewable sources to power its plant.

When fully operational at Door 2 Green, the Freebox and complementary MOPS palletizing system will allow the company to capitalize on all of the environmental, marketing, and cost reduction benefits provided by the custom case-making system.
Companies in this article