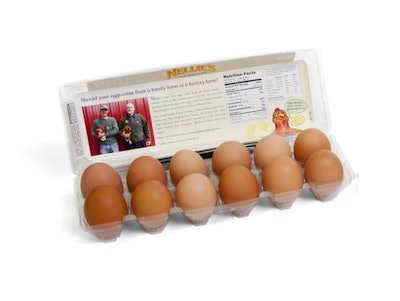 A clear PET package made from 100% recycled material that displays the fresh, Nellie's Nest brand of Certified Humane, cage-free eggs from Pete & Gerry's Organics has taken on a new level of transparency. In early 2013, the company redesigned the inner carton liners for its egg packs to include photos and copy that introduce some of the 59 small family farms that supply its eggs, along with facts on the state of egg farming today.
In the late '90s, fearful of being squeezed out of the conventional egg-farming business by big factory farms, Pete & Gerry's, a small, family-run egg farm located in the heart of New Hampshire's White Mountains, pioneered the organic and cage-free egg segment in the Northeastern U.S. "CEO Jesse LaFlamme caught and rode the growing wave of consumers who were turning toward more ethically produced, healthier eggs," relates the company's executive vice president of marketing and business development, David Rachlin.
Today the farm—operating nine barns of cage-free hens—contracts with nearly 60 small family egg farms, primarily in the Northeastern U.S., and is constantly recruiting additional egg producers to keep up with demand for its Nellie's Nest Cage-Free, Pete & Gerry's Organic, and Pete & Gerry's Heirloom egg brands.
"It is deeply, viscerally important to our CEO to bring back the small family farmers, to give them a chance," says Rachlin. "Big Ag has wiped out 92 percent of the small family egg farmers, and they have done that by concentrating in these massive CAFOs [Concentrated Agricultural Feeding Operations], with millions of hens in caged barns. Of course, it's all to drive out cost, but it drives out a lot of other values, like ethics and humane treatment of the animals, as well as other things that even translate into the nutrition, appearance, and taste of the egg."
Rolled out in April, new carton liners tell the Nellie's Nest brand story on the inside of the lid. "When a consumer goes to buy eggs—I don't know if it's a natural, innate behavior, but it is certainly learned—they open the lid and inspect the eggs," says Rachlin. "That presents a beautiful billboard opportunity to tell the brand story, so we are taking advantage of that."
Among the facts listed on the liner:
• 94% of all eggs produced in the U.S. in 2012 came from 60 companies
• 50% were produced by 10 large companies in average flocks of 15 million hens
• Only 5.7% of the 287 million hens in the U.S. are cage-free
• 100% of Nellie's hens are cage-free
Photos and information on some of the family farmers—a different one on each carton—emphasize the family-farm connection.
Also on the liner, Pete & Gerry's explains why it has chosen to use recycled PET versus molded pulp for its tri-fold egg packaging. "The [PET recycling] process uses far less energy and water than pulp, and uses no harsh chemicals," the copy reads. The plastic carton is also said to provide greater protection for the eggs, as well.
Pete & Gerry's was one of the first to use clear PET egg packaging from Interplast in 1996. Says Rachlin, despite the increase in material cost, "Pete & Gerry's deliberately moved away from molded pulp and into recycled plastic packaging because it is more environmentally sustainable."
As for the outward-facing portion of the liner, Nellie's uses delightful, colorful illustrations of happy hens—including LaFlamme's childhood pet, Nellie—hand-drawn by a family friend, who recently refreshed the drawings in mid-2012. A single hen is pictured to one side wearing a t-shirt bearing the recycling symbol and advising, "This package used to be a water bottle." The refresh also included using a more saturated purple color for the package background, as well as call-outs that mention the eggs' Omega-3 benefits.
Nellie's Nest Cage-Free eggs are available at grocers throughout New England, and in New York, Pennsylvania, and New Jersey, in one-dozen and 6-count cartons.
Companies in this article