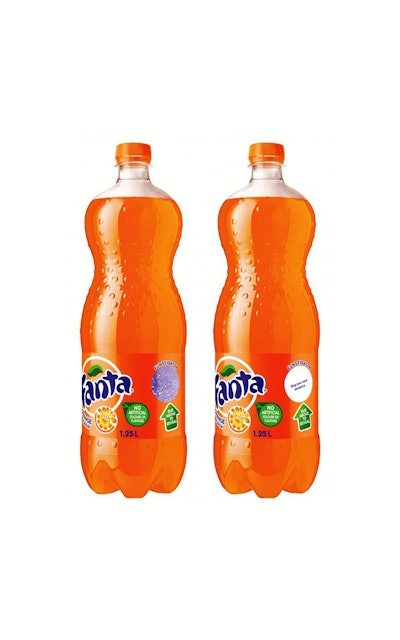 A recent promotion in Australia employed two levels of temperature-activated ink on specially marked bottles of Fanta™ beverages to reveal an invitation to join in an interactive campaign offering valuable prizes.
During November and December 2012, labels on Fanta Orange™ bottles were printed with thermochromic ink from Chromatic Technologies (CTI) that revealed a challenge to consumers to perform a "Funstigator" task, such as "High-five someone wearing orange," "Pretend you're a ninja," or "Do the robot." The core activity of the summer campaign was a Fanta Funstigator gaming application available on the Fanta Australia Facebook page and as a smartphone app. Through the app, users could take on Funstigator challenges, as well as send them to their friends and scan characters from packs, all while earning points and competing for a range of prizes. The Fanta "Unbottle the Fun" campaign was supported across multiple touchpoints, including specially marked Fanta bottles, and cinema, mobile, and digital media.
The promotion used two different activation temperatures for the thermochromic inks based on whether the bottle was sold in the refrigerator section or the ambient shelf. On the refrigerated bottles, the blue thermochromic inks would clear out as the beverage was consumed. When the product was pulled from the refrigerator at 8°C (46°F), the inks were fully colored, hiding the message behind. On the flip side, the bottles sold at room temperature utilized thermochromic ink set to be fully colored at 29°C (84°F) and relied on the heat of the consumers' hands to clear and reveal the message.
Having the ability to set specific temperatures for the two retail settings gave each Fanta fan the chance to participate in the promotion regardless of how they bought the product.
"Fanta is about bringing more fun to people's lives," explains Delia Maloney, flavours marketing manager, Coca-Cola South Pacific. "We were excited that innovation of thermal inks allowed us to put our packs at the heart of our 'Unbottle the Fun' campaign this summer. From fridge or ambient, the thermal inks revealed different 'Funstigator' challenges that invited our teen audience to add a little fun to their day-to-day.
"Also featured was the thermal ink 'reveal' of these challenges on the packs in our TV commercial, which drove our consumers to download the Funstigator app and continue to play with their friends. Interaction was key for this campaign, and thermal inks made this possible on pack.
Film labels used in the Fanta promotion were supplied to Coca Cola Australia by Labelmakers Group Pty Ltd., of Australia.
Companies in this article