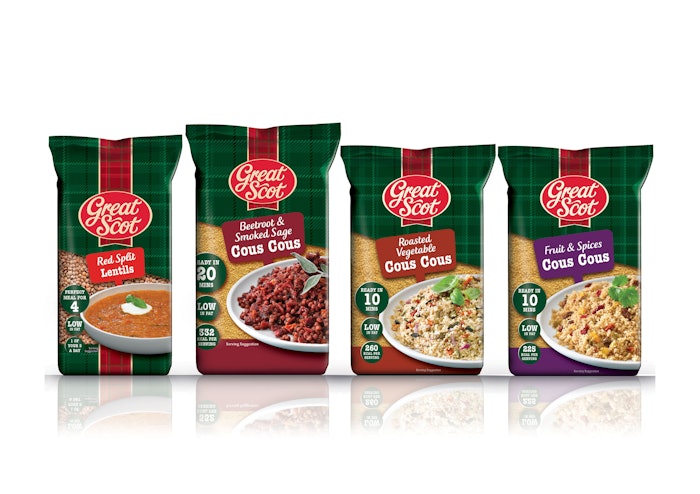 A new package design for the Great Scot line of dry bean and grain products from U.K. manufacturer Whitworths puts the focus squarely on product presentation and taste, to move the "stock cupboard" product from commodity to "kitchen flair."
"Great Scot has been offering traditional Scottish ingredients for more than 30 years, but with the market changing, Whitworths wanted to expand the brand by offering new meal solutions," says Alan Gilbody, creative director for Slice Design. "Slice was asked to create a packaging design that refreshed the existing Great Scot range and allowed for the introduction of a range of new products."
Providing new package graphics for eight SKUs—among them existing products such as Red Split Lentils and Vegetable Broth Mix, as well as some new, specialized products like Beetroot & Smoked Sage Cous Cous—Slice retained some elements of the Great Scot brand equity, while punching up the flexible film packaging with product shots and color coding.
The logo was left intact, as it was only recently redesigned, as was the red plaid ribbon graphic running lengthwise across the front panel of the package. A solid green background was supplanted by a subtle green-plaid pattern. Appetizing prepared-food photography at the center of each pack provides meal and serving suggestions for at-home cooks.
"While keeping the Great Scot brand equity, we created a design that communicated wholesome, healthy, and nutritious meal solutions, focusing on family values, quality ingredients, and home cooking," explains Gilbody.
Icons on each pack, with copy such as "Perfect meal for 4," "Ready in 20 minutes," and "260 kcal per serving," for example, as well as color coding were added to ease on-shelf navigation.
The new products and packaging were introduced in U.K. markets in February to positive consumer response.
Companies in this article