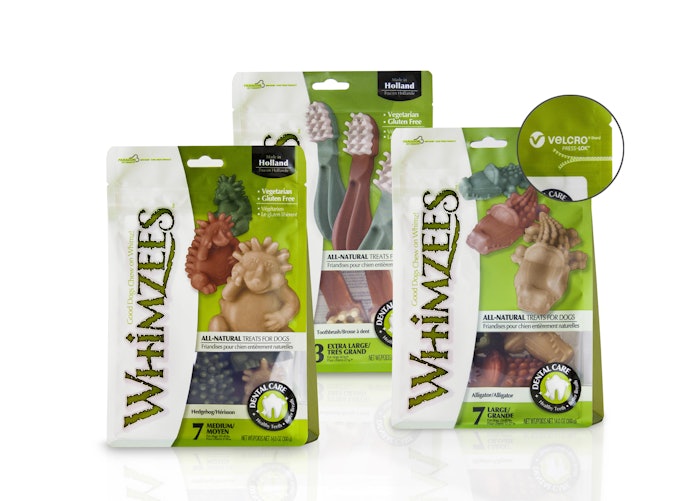 Holland-based Paragon Pet Products has integrated Velcro Industries' PRESS-LOK® closure technology into packages of its gluten-free, vegetable-based, all natural dog treats, WHIMZEES. The one-of-a-kind dog treats help remove tartar and plaque, are highly digestible, and rich in fibers.

Paragon Pet Products and Velcro Industries worked with manufacturer PEEL Plastics Products Ltd., to deliver premium packaging for WHIMZEES. With a flat surface, WHIMZEES packages offer shelf stability and superior cube utilization. The pouches can fit snugly or tightly on the shelf, or the pouch's sombrero-style hanger hole can be used to hang the product at retailer locations.
"Our mission is to develop the healthiest, high-quality dog chews in the world," says Roelof Kunst, marketing and sales director of Paragon Pet Products. "With VELCRO-brand PRESS-LOK closure technology, our customers can trust their dog treats will remain fresh and deliver the same great taste and abundant value as the day they purchased WHIMZEES. Our dog treats will continue to make a positive contribution to dogs' teeth, health and well-being."

The VELCRO PRESS-LOK closure system is a proprietary hook-to-hook technology. The closure is a unique solution in the industry because it offers easy alignment that allows consumers to fasten without precise line-up, securing the package with great burst strength.
"We are thrilled that PRESS-LOK delivers a fun and functional new brand experience for Paragon Pet customers purchasing WHIMZEES," says Jurjen Jacobs, vice president of Global Marketing, Velcro Industries. "Additionally, Paragon Pet Products has a strong reputation and commitment to delighting its customers."
Paragon Pet Products will launch WHIMZEES new packaging in April 2013 at many Pet Specialty retailers.
Companies in this article