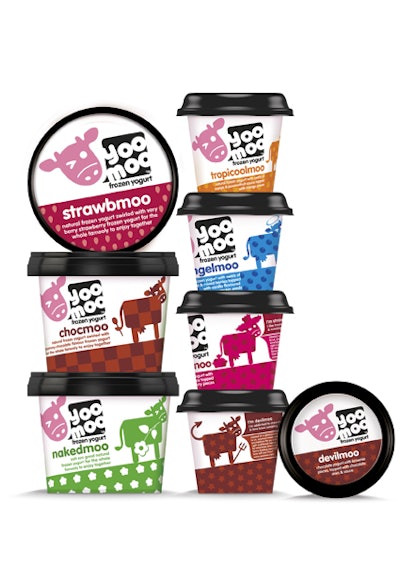 A pink, winking cow icon on 150- and 750-mL round polypropylene "pots" of Yoomoo brand frozen yogurt is one of the first indications that this U.K. froyo brand has a quirky and fun personality. Frozen yogurt is a relatively new category in the U.K., quickly gaining popularity as a healthy alternative to ice cream. The Yoomoo chain of retail stores was launched in 2010 to bring this U.S. import to Europe with a distinctly British "flavor."
Says founder Amanda Gestetner, "Our brand tone of voice is engaging and lighthearted, and through it, we play up our British heritage in the moo personalities." Varieties include such moovelous names as devilmoo, for a chocolate concoction with brownie and candy bits; tropicoolmoo, a mango and passion fruit flavor; and nakedmoo, a plain vanilla flavor, among others. Yoomoo uses no artificial colors, flavors, or preservatives, and it sources its natural ingredients from British farms.
Strategic design firm Bulletproof originally developed the brand positioning, identity, and visual identity system for Yoomoo upon its introduction, "creating a witty, sociable, and deliciously healthy frozen yogurt brand," relates Joanna Buist, Bulletproof account manager. After opening 13 stores, Yoomoo extended its brand to retail, launching a line of froyo products with R&R Ice Cream UK Ltd. Says Buist, "The challenge was to communicate the Yoomoo natural, low-fat, frozen yogurt offering in the chiller environment while competing against the ice cream giants—no mean feat!"
The line includes mini PP pots and lids injection-molded by The Spies Group and litho-printed in five colors by Verstraete; the larger, 750-mL size is molded by Üstün and printed by Metprint. The clean, white packages are decorated with cartoon-like graphics in flavor-inspired colors and patterns that aid in shoppability. For example, devilmoo is depicted as a brown cow decorated with a star pattern holding a pitchfork; angelmoo, a haloed cow, is depicted in a blue dot pattern. Lids carry the winking cow icon and a speech bubble with the brand name, "standing proudly for brand recognition in the chiller," says Buist.
Since Yoomoo's launch in spring 2012, "the brand has achieved excellent distribution across all major supermarkets," relates R&R senior marketing manager Charlotte Hambling. "The trade have recognized the potential of developing the frozen yogurt opportunity and supported with space in store as well as promotional support. The Yoomoo brand is already worth £3.4 million (US$5.4 million) in retail value, having sold 2.4 million pots. Importantly, 65% of the spend on Yoomoo has been incremental to the ice cream category."
Companies in this article