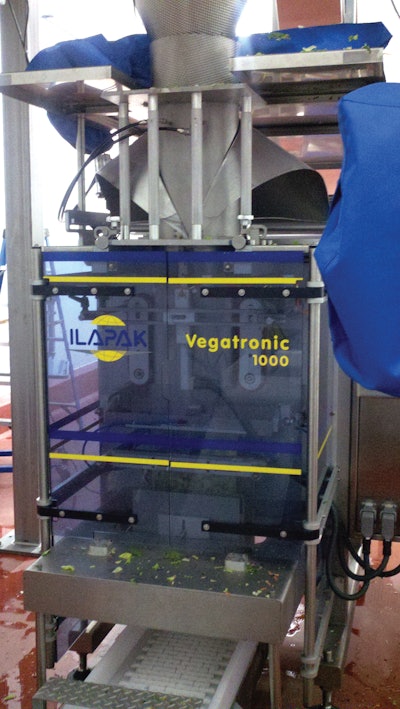 J&J Distributing, St. Paul, MN, has earned an excellent reputation as a reliable supplier of quality conventional and organic fresh produce and dried fruits and vegetable products. Its customers include a range of national retailers, including Whole Foods Market, Wal-Mart, Cub Foods, SUPER VALU, Twin Cities co-ops, and many more.

The company wanted to extend its customer base to include the foodservice industry. In order to accomplish that goal, J&J needed to expand its packaging capabilities to address foodservice operators' diverse requirements. So in December 2011, J&J Distributing installed Vegatronic and Weightronic equipment from Ilapak to bag 2-lb, 2.5-lb, and 5-lb volumes of fresh-cut iceberg lettuce, romaine lettuce, and cabbage.

Ron Krantz, J&J's Assistant Director for Fresh Cut, says, "We chose the Ilapak equipment because the company is a well-known packaging machinery manufacturer and was recommended by our packaging consultant."

J&J installed a Weightronic WA 14-50 radial computer combination scale. The scale has 14 buckets, and each bucket can hold up to 5 L of product. In conjunction with the Weightronic, J&J also installed a Vegatronic 1000 vertical form/fill/seal machine. Krantz notes, "Ilapak's sales rep worked with us to make sure we were purchasing the correct piece of equipment for our process. The training program was done so that everyone knew how the equipment operated. The equipment is easy to maintain. We get excellent service from Ilapak to replace normal wear parts, and the machine allows very simple changeover of film rolls and pack sizes."

The bags for the fresh-cut lettuce and cabbage are formed from 1-mil thick polypropylene, supplied by BMSI Packaging ServicesCo.. For the lettuce products, J&J uses a PP film with a 180 OTR (oxygen transmission rate). For the cabbage products, a 300 OTR film is used. Estimated refrigerated shelf life for the bagged lettuce and cabbage is 14 days. Shelf life is enhanced with nitrogen gas flush and proprietary modified atmosphere packaging.

To identify and track product items, all the bags bear J&J and J&J customer codes, lot codes, bar codes, use-by date codes, as well as product descriptions. Krantz says, "Ilapak recommended the ink-jet printing system we installed—the Data Flex Printer from Videojet. I believe it was the right choice. It is very easy to create new package codes with the Videojet software. We keep a laptop dedicated just for this process. And with a USB memory stick, we can upload right to a PLC. In addition, Videojet's technical service assistance has been great."

Summing up the addition of the new bagging equipment, Krantz concludes, "Without it, we would not be able to compete in the foodservice industry. To compete, you need to be able to package products as efficiently, safely, and cost-effectively as possible. The Vegatronic 1000 can produce 30+ bags per minute—and with very accurate weights, thanks to the Weightronic 14-50 scale, and with precision code printing, thanks to the Videojet Data Flex Printer. All of the equipment is user-friendly. With PLC touch screens, one operator can set-up the next item to be packed in just a few minutes. With some other less sophisticated bagging systems, it could take 6 or 8 people to produce the same amount of product in an equivalent amount of time."
Companies in this article