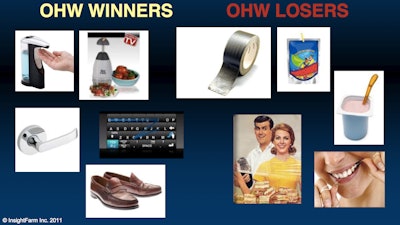 A significant number of consumers are missing a limb, and many more of us live our lives in a similar fashion, with one hand occupied with tasks such as driving, eating, texting, surfing the internet, carrying a child or carrying groceries.

To help both types of consumers, Kelley Styring, consumer strategist and principal of InsightFarm, Newberg, OR, conducted a two-year "One Handed World" study of 248 products across product categories to discover problems and reduce the degree of difficulty to make products and packages easier to stabilize, manipulate and use.

The research included qualitative and quantitative studies, and considered respondents' full relationship with the products at several steps: opening the package; removing the item; initial use; continued use and reclose/disposal. She, along with along with leaders from Kimberly-Clark, Kraft Foods and Avery Office and Consumer Products, presented insights at the 2012 Pack Expo in Chicago.

Kimberly-Clark found that foaming hand soap, being "pre-lathered," saves a step. But, according to Shelly Seabaugh, research & education senior specialist, when her team "asked about one question [it got] an unexpected "ah ha!" in another area, hand towels: Noting the difficulty one-handed consumers have washing the back of the hands as well as dry them ("flicking" helps), she said, could lead to "super absorbent" paper towels; new, reusable hand towels or towels with different ways of tearing.

At Avery, Jeff Kaufman, group manager of consumer insights, said the research, cited paper management product improvements such as its Easy Peel Labels and "one touch" EZ Open Rings on Binders. The key for many products, Avery's research found, is to make products—heavy tape dispensers, heavy desk staplers and clipboards to hold paper still for writing—are self-stabilizing so that one hand can write, without need for another to hold the product. For binding papers, research showed that bigger clips are easier for consumers to manage than small ones, and staples are easier than clips. "We're [also] exploring ways to merge the digital and world physical world together," Kaufman added.

Kraft Foods has "finding ways to make shack packaging simpler," said Thad Fisher, senior engineer of packaging strategic research. His cross-functional team, including R&D, consumer insights and other departments, gave one-handed respondents several prototype packages and a workbook to record their experiences with the company's proprietary Snap 'n Pour, SnapLid, Peel-N-Reseal, Snack 'n Seal, Twist2Close and FreshSnap packages and closures, among other innovations. He said the company has "several concepts that are being refined" based on research inside and external to Kraft. Details remain proprietary, but Fisher said: "Ultimately we were able to benefit from a very simple summary of each concept [to] make snacking simpler."

Styring, a veteran of Procter & Gamble and Frito-Lay who also has also worked on products for NASA and Black & Decker and others, has made more details, including video diary examples, at her One Handed World blog.