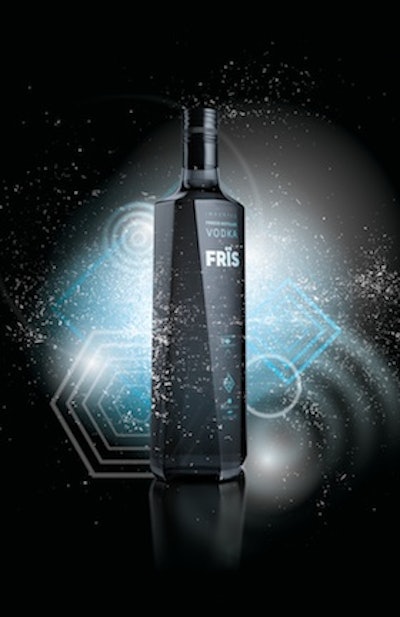 The Absolut Company's line of spirits continues to stand out on the shelf, this time with its redesigned Frïs (pronounced "freeze") vodka bottle, which earned a 2012 Clear Choice Award from the Glass Packaging Institute (GPI).
For the redesign, the Absolut Company, within the Pernod Ricard group, worked with WPP-owned brand strategy and design consultancy The Brand Union.
The bottle design, which resembles a large shard of ice (inspired by Frïs' Nordic roots), was awarded First Place in the Distilled Spirits category for innovative glass packaging and shelf impact.
"For this project, our goal was to craft visually stunning packaging that counterbalances the average, clear vodka bottle—resulting in a smoky gray, chiseled exterior that is both elegant and sleek," explains Richard Bates, chief creative officer of The Brand Union. "The design is crisp, refined and innovative—reflective of our approach to product design, which embraces the visually impactful and imaginative."
The Frïs bottle design was also selected the winner of the People's Choice Competition via GPI's Facebook page.
The relaunched bottle extends the 30-plus-year relationship between The Brand Union and the brand, creating a bottle that reflects the Frïs slogan: "Freeze Time. Seize Pure Moments."
Introduced in Denmark in 1989, Frïs Vodka was invented at Denmark's historic Aalborg Distillery, one of the oldest in Scandinavia. It is produced from all-natural whole grain and pure spring water and is the recipient of several gold medals from the prestigious San Francisco Spirits Competition.
The Glass Packaging Institute (GPI) announced the winners of its 2012 Clear Choice Awards at the 2012 PACK EXPO. This year, eight consumer product goods companies were recognized for their achievements in creating innovative glass packages with shelf impact. Entries were judged on innovation, package design (including container label and closure), and consumer appeal.
GPI's Web provides the following description, "The Frïs Vodka is made with a patented Freeze Distillation technique resulting in a vodka with outstanding quality and inspired by the mesmeric chill of the Nordic realm. Its chiseled ice-grey exterior is as attractive on the outside as it is on the inside. The DNA of the product is brought to life by using a custom-made color and shape of glass, no other material would have done it justice." It lists the glass manufacturer as Verallia North America.
Companies in this article