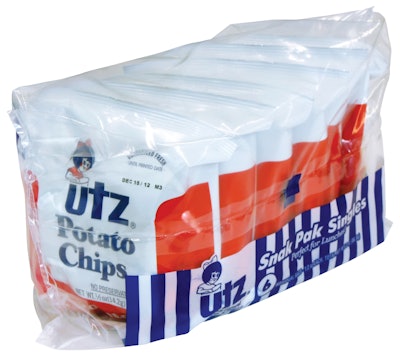 A new breed of multipacker for snack food packaging has been developed and commercialized at Utz Quality Foods, Inc., a family-owned snack food manufacturer out of Hanover, PA. Built by Kliklok-Woodman and called the Vantage BalePack, the system is used to wrap six 1-oz or 1⁄2-oz bags of single-serve potato chips in clear film. Consumers, says Utz vice president of manufacturing Paul Schaum, are really drawn to this new format. "It's dramatically increased units sold in the stores it's gone to," says Schaum.

It's also brought labor savings, he points out. "What it replaced was basically a bread bag that we filled manually or semi-automatically. For awhile we used a plastic bread bag tab to close it, though more recently we were heat sealing it closed. Either way, it was suboptimal, not just in production but on shelf, too. The BalePack looks so much better on the shelf. And the store-door salesperson has an easier time with it because the previous formats were more difficult to stack."

Utz and Kliklok-Woodman have a long history together, and conversations about the BalePack go back almost three years. Patent-pending technology lets the machine enclose individual bags in an optimally compact package whose brick-like shape makes it easy for Utz sales people to stack packs neatly and attractively on retail store shelves.

The compact form of the BalePack means that Utz gains sustainable packaging points, too, because less packaging material is used for secondary packaging. Just how much less becomes really noticeable when the BalePack is examined beside other six-count multipacks used for single-serve salty snacks like potato chips. The lap seal, for example, that turns flat film into a continuous tube on the BalePack equipment involves considerably less film than the fin seal used on some other multipacks. Also designed with source reduction in mind are the end seals—again, the amount of material that has to be folded and formed into a heat seal is visibly minimalized compared to other approaches.

Direct link to vf/f/s

Kliklok-Woodman designed the BalePack so that it could be linked directly to the discharge of a vertical form/fill/seal system or used in an off-line fashion. Utz has opted for the direct link, as the BalePack sits immediately downstream from the Kliklok-Woodman P3c continuous-motion bagger that was installed about a year ago.

Exiting the P3c, bags are elevated in a servo-driven, intermittent-motion, flighted device that takes them from a conveyor infeed near floor level to a height of about 10 ft. At that height, a reciprocating arm pushes individual bags out of their elevator flights and into bag transfer belts that advance bags to a loading station. Here bags are pushed down by a plunging arm that strokes down with each cycle, sending bags one by one into what is essentially a vertical form/fill/seal system. The forming collar has vent holes in it to help vent excess air that, if allowed to build inside the tube of film, could make its way down to where end seals are made and burst those seals.

Watching the plunging arm push bags down into clear film at 75 bags/min, one can't help but wonder why the potato chips inside aren't crushed. But each bag is backflushed with nitrogen that not only extends shelf life but also turns each bag into a bubble of air. So when the plunging arm contacts the surface of the bag, the chips themselves are safely protected by a cushion of air. Also helpful is that the plunging arm is servo-driven, and the motion profile of a servo motor can always be more finely and gently controlled than other motor options.

Important in the overall BalePack concept is the clear film fed into the machine. The 2-mil coextruded PE film is made by Winpak and printed flexo in two colors by Packaging Product Corp.. The material has just the right extensibility. Jason D'Arcy, senior project engineer at Kliklik-Woodman, explains why this is important.

"We push down on each bag to advance the film over the forming collar, so the film has to be able to stretch just the right amount to accept this. PPC and Winpak have been helpful in coming up with a material that meets these machine requirements."

Side seal and gussets

Once the clear film has been drawn over the forming collar and turned into a tube, a pneumatically activated tool strokes in from the side to create a side seal. A gusset assembly creates top and bottom gussets that are important because they give the finished multipack its nice, tight, stackable shape.

The plunging arm isn't the only servo-driven axis of motion in the BalePack machine. Also servo-driven are the end-seal jaws and the flighted elevator that lifts bags from floor level up into the BalePack infeed. An earlier version of the machine installed at Utz relied on pneumatic actuation for the end-seal jaws. But the switch to a servo motor has brought a measurable improvement in control over precisely how long the sealing jaws are closed and better control of the cooling cycle that each end seal undergoes. The servos on the BalePack, says D'Arcy, are from Rockwell, as is the ControlLogix L-43 machine controller.

A finished bale of six individual packs is anywhere between 25% and 35% more space efficient than hand-packed or flow-wrapped multipacks, says Kliklik-Woodman. This tighter cube translates directly to improved logistics and cost savings.

The advantages inherent in this new format carry over into the store, too. The greater density of the finished multipack means more facings fit in the same amount of shelf space, reducing the replenishment cycle and ensuring product availability for the consumer. The BalePack is also stackable, which opens up additional merchandising options.

As for the 75 bags/min throughput, Schaum says it was an important consideration as the machine was developed. He adds this: "We use two people to operate the machine where we used to need five for our previous multipack operation."
Now in full operation since June, the BalePack system is a fixture at Utz. "Kliklok-Woodman came to us with a prototype," says Schaum. "We accepted the challenge of being a development partner and beta site, and we worked closely with the machine builder and film supplier to get this right."
Companies in this article