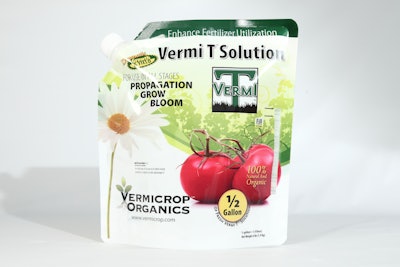 A specially blended compost tea for environmentally conscious gardeners is reaping the benefits of a switch to a greener, more cost-effective flexible packaging structure. According to John Perrino, co-founder and COO of Vermicrop Organics of Rockin, CA, the company switched to a spout-and-pouch combination, or fitment pouch, designed by Flair Flexible Packaging as a solution to a very expensive and labor-intensive distribution system.
"The garden shops that sell our VermiT Solution each have their own brewers so they can brew on-site. We used to have to send them our kits, which included the empty bottles in half- or whole-gallon sizes, for filling. We'd manually label each of the bottles in our warehouse. The time, the cost of warehousing empty bottles, and the shipping expense were unsustainable" Perrino says.
The new half-gallon triple-layer laminated pouch with a 22-mm recloseable/reusable pour-spout fitment now enables Vermicrop Organics to print the pouches with vibrant, eight-color graphics. The company is able to warehouse one shipment on less than two pallets—the equivalent of a full truckload of their old rigid bottles.
Perrino says he likes the beautiful packaging, but he likes the dramatic decrease in shipping costs for the kits even more. "We are now shipping flat, unfilled pouches instead of rigid bottles," he explains. "No one else in the organic gardening industry is doing this—selling their compost tea in a pouch. It speaks to the heart of our mission: to discover innovative ways to make meaningful change."
Vermicrop Organics distributes a full line of nature-inspired horticultural inoculants and growing media throughout the U.S., Canada, and portions of Europe.
Companies in this article