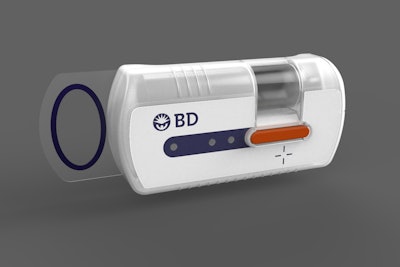 Advances in large-molecule biologic treatments—and the emerging shift of care from hospitals and clinics to the home—are two of the factors influencing the ever-evolving healthcare market. To address these issues, BD Medical, a segment of Becton, Dickinson and Co. is developing the BD™ Microinfusor patch injector.
Not yet in use commercially, the BD Microinfusor patch injector offers patients an advanced drug delivery system that allows them to self-administer a biologic therapy as opposed to traveling to and from an acute-care facility such as a hospital, clinic, or doctor's office for an injection. BD says that for patients with dexterity issues, particularly the elderly, the BD Microinfusor patch injector offers an easier delivery method than autoinjectors or pens.
Shown here, the BD Microinfusor patch injector can be customized in size and appearance and targeted for a variety of biologic medications to treat various chronic diseases. The patch would likely be purchased and further customized by a pharmaceutical or biopharmaceutical company, which in turn would sell it through its normal distribution channels. A physician would prescribe the product to treat a patient.
Biologic challenges
Surya Viswanathan, strategic marketing manager, BD Medical-Pharmaceutical Systems, Self-Administration Injection Systems platform, provides some background regarding the development of the BD Microinfusor patch injector: "The pharmaceutical industry is moving away from the small-molecule, blockbuster-type approach and moving toward targeted, biologic therapies to treat several chronic diseases.
"New biologic formulations are beginning to push previously accepted limits of injection volume and viscosity. Additionally, they tend to have issues with sensitivity to certain extractable and leachable materials within the drug container that they are in. They are a lot more fragile than small-molecule pharmaceuticals and they present delivery challenges. These can cause the biologic product to lose its efficacy if it's not kept under controlled conditions. We have expertise around issues related to the delivery of biologics."
Viswanathan explains that the Self-Administration Injection Systems platform focuses on customizing delivery systems for injectable biologics. "We partner with pharmaceutical companies. They are our direct customers. The pharmaceutical companies fill their drug product into the primary container; they register the drug-device combination product and take it to market," she says.
Adherence factor
When the topic of patient adherence comes up, the discussion often turns to solid-dose pharmaceuticals and how packages can help patients stay on their drug regimens. Viswanathan points out that the BD Microinfusor patch injector helps adherence as it enables larger-quantity doses that require less-frequent injections.
"It is believed that as dosing becoming less frequent it becomes more convenient for patients and they are more likely to adhere and take their medications as required," she says. "That makes it a lot easier for them to remember because they have to worry about it fewer times. Also, some patients may have a fear of injections, so the fewer times patients have to inject themselves the happier they are."
BD markets the BD Microinfusor patch injector as a virtually hands-free drug delivery device. The Microinfusor patch injector stays intact on the skin. There is no outer case that would be removed. It is considered hands-free because it has a flat form that can be stably applied to the skin, as opposed to an auto injector, which must be held at all times.
"A patient is only willing to hold a device at the injection site for so long," insists Viswanathan. The hands-free BD Microinfusor patch injector takes away that limitation and allows for longer injection times, ranging from several minutes to hours, so we can deliver higher volume for viscous biologic drugs. Technical specifications for drug delivery such as volume and injection time, as well as look and feel of the delivery system can be customized per a manufacturer's needs.
In essence, the BD Microinfusor patch injector serves as an alternative to existing hand-held drug-delivery systems, and includes a primary rigid container that would hold the drug, which would be delivered via a needle into the patient. The filling and assembly process, and materials used, can vary, and Viswanathan says specifics are proprietary. What she does say is the BD Microinfusor patch injector leverages proven technologies and processes, thereby minimizing the barriers to adoption.
Design input
Viswanathan says BD uses a design approach "where we take patient input from the very early stages of the product development and all the way through launch. It is one of the most important inputs to our product development process. If we recognize application of this delivery system for a certain therapeutic area we will tailor certain design factors of the product catering specifically to that patient population. We will get input during product development from those patient types to make sure that the resulting delivery system is proven in the hands of their target population.
"We deliver a fully integrated system. We believe that it gives companies superior reliability and makes sure that there are fewer chances of recalls. That means the pharmaceutical customer would get all components of the drug-delivery system, including the primary container, the secondary container, and needle. There would be some final assembly requirements from the pharmaceutical customer as they are the ones who are filling the drug. These biologics are typically filled aseptically in a clean room environment. We supply everything that's necessary for final assembly. We try to make it as convenient for the pharmaceutical customer as possible, leveraging proven filing technologies, processes, and systems."
The BD Microinfusor patch injector can be used both for clinical trials and for commercial applications. Though not commercially on the market, Viswanathan says, the product has generated interest from many pharmaceutical companies. "All of our discussions are under confidentiality agreements, so we are not able to discuss specifics, but we are actively collaborating with companies with needs in this area," she says.