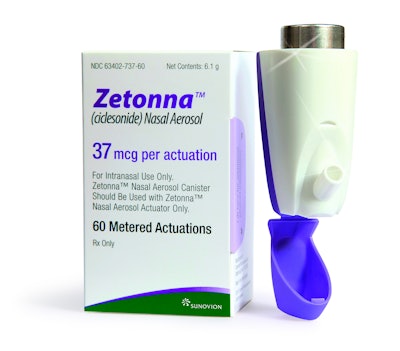 Sunovion Pharmaceuticals, a pharmaceutical company dedicated to discovering, developing, and commercializing therapeutic products that advance the science of medicine in the central nervous system and respiratory disease, has worked for more than six years with Aptar Pharma to develop a unique customized Dose Indicator for the delivery of Zetonna, a dry nasal aerosol for the treatment of allergic rhinitis.
The innovative actuator offers an alternative to conventional spray pump-based systems, according to Aptar, the developer and manufacturer of nasal and pulmonary drug delivery devices. The Zetonna Nasal Aerosol's delivery system is a non-aqueous, dry aerosol spray for once-daily use, with one spray per nostril. Each canister of Zetonna Nasal Aerosol contains enough medicine for 60 metered actuations, equivalent to one month of treatment. Zetonna was available in the U.S. as of July 30, ahead of the autumn allergy season.
Allergic Rhinitis is estimated to affect approximately 60 million people in the U.S., and its prevalence is increasing. Specifically, it is estimated that between 10% and 30% of adults and as many as 40% of children are affected by the disease. Approximately 12 million visits to U.S. health centers each year are attributed to allergic rhinitis, according to the American Academy of Allergy, Asthma and Immunology.
With the help of Aptar Pharma's R&D team, Zetonna Nasal Aerosol was customized to include the built-in Landmark® dose indicator actuator. Landmark counts downward and provides the patient with a visual color and numerical reference when it is time to refill the prescription before the container becomes empty.
The Landmark dose-counting mechanism operates independently from the patient's actuation force. The compact and robust design of Landmark includes a plastic cap to protect the nose tip from dust, which is attached to the actuator to avoid it being lost.
"The launch of Zetonna Nasal Aerosol in the United States is an important milestone for Sunovion, and provides another treatment option for the millions of patients suffering from allergic rhinitis," says Ted Raad, vice president, sales and marketing for Sunovion. "Aptar Pharma's Landmark indicator has played an key role in the development of Zetonna."