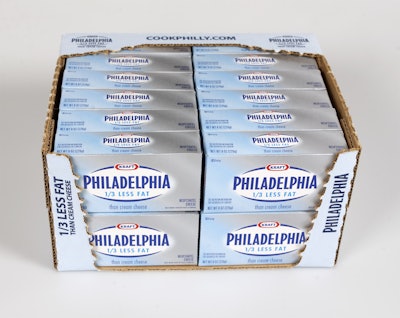 With a year of successful in-store use under its belt to cite, Kraft Foods is sharing details of the launch of a new Retail Ready Package (RRP) for its Philadelphia brand 8-oz brick cream cheese, which the company estimates will reduce its annual paper use by 800,000 lb. Introduced in June 2011, the RRP was developed through a collaboration between Kraft's R&D packaging team, its engineering and operations team, and its proprietary corrugated suppliers.
As Jordan Dasher, packaging engineer, Cheese and Dairy, for Kraft, explains, the project was undertaken to reduce Kraft's material usage while increasing ease of display for the retailer. "Sustainability continues to be a part of the framework for packaging development at Kraft," he says.
Dasher tells PW that requirements for the RRP included a functional, easy-open design with printed graphics that could significantly reduce the steps needed for the retailer to stock the product on shelf; a case that could fit Kraft's existing footprint; a design that would be easy for consumers to shop; and a case that could withstand the rigors of the refrigerated distribution environment.
Before the move to RRP, cream cheese bricks (individually packaged in a foil liner and carton) were packed in a 12-count display carton that was then placed along with one or two others in a corrugated case for shipment to the retailer. The new design eliminates the 12-count display carton, making the corrugated case the in-store display unit. The RRP, which features an easy-to-remove perforated panel that spans the top and front of the case, holds 12, 24, or 36 bricks, depending upon the retailer requirement. A club store-specific case holds six cartons, each packed with six cream cheese bricks.
The main challenges in the design of the new case, relates Dasher, were ensuring proper board strength, as well as accurate pressure of the perforated rule to guarantee the case would hold up through the supply chain, while also being easy to open at retail. "So even though we eliminated the 12-count display carton, we actually had to increase some of the strength of the corrugated board to help counter the loss of that component," he explains.
To accommodate the RRP within its packaging operations, Kraft installed new case-forming equipment, Dasher adds.
Before launching the RRP nationwide, Kraft conducted trials with Kroger to help understand shopper and retailer reactions to the new package, including ease of opening, shelf life, graphic placement, and accessibility and usage.
The trials confirmed the viability of the RRP, including consumer feedback that the new two-color rotary flexo-printed display case makes it easier to identify the cream cheese product on shelf versus the previous three-color gravure-printed display carton. Results also showed that the RRP drastically reduces the steps—from 15 down to three—required by retailers to prepare the product for display.
Concludes Dasher, "For us, the sustainability benefit achieved through the elimination of the 12-count display carton justified the capital investment."
Companies in this article