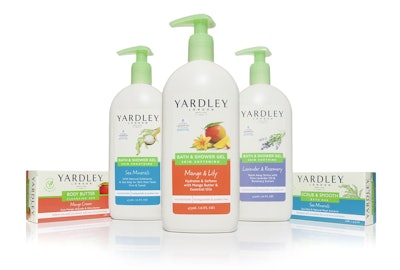 A clean and understated package design with blocks of bold, bright colors and fresh ingredient imagery help Yardley London's new affordable bath and shower collection attract "a younger audience, looking for greater scent and benefit cues, as well as products with a sustainable mission." That's according to Deidre Williams, director of marketing, Skin Care, for Yardley parent company Lornamead, Inc. Williams explains that the new line, launched last May, was conceived to build on the growing popularity in the U.S. of Yardley's bath soaps.
"Like other Yardley products, this line uses premium ingredients and botanicals, while taking the product benefits to a whole new level," she says. "The line also ups the ante on sustainability. From the packaging itself to the concentrated formulas within, this is the most eco-friendly Yardley on shelf."
Packaging, developed with Little Big Brands, includes clean, white, round-shouldered PET bottles made from 50% recycled content from Silgan Plastics for three varieties of shower gel, and biodegradable, recyclable cartons from MOD-PAC for two bath-bar scents. Convenient pump dispensers from Aptar allow for one-handed application.
In crafting the graphic design for the brand, Little Big creative director John Nunziato says the firm sought to stay true to the Yardley heritage and brand equity, while creating a breakthrough package for the bath and shower category. "It was important for us to develop a line look that was benefit-driven, as well as highlight the eco-benefits of the brand," he says. "Ultimately, we wanted women not only to love the product inside, but also feel great about displaying it in her bathroom and shower."
The main graphic elements, guided by qualitative and quantitative testing, comprise color, typography, and botanical imagery that together create depth and dimension. "The dynamic colors help connote scent and ingredients, while the typography lends modernity to the brand as well as a natural feel," says Nunziato. "Bold imagery helps consumers imagine the luscious scents contained in the bottles and boxes." Also featured on-pack are icons that bring prominence to the eco benefits of the biodegradable, paraben-free products.
Available in drug and food stores nationwide, the Yardley London bath and shower collection is priced at $2.99 for the soaps, and $4.99 for the shower gels.
Companies in this article