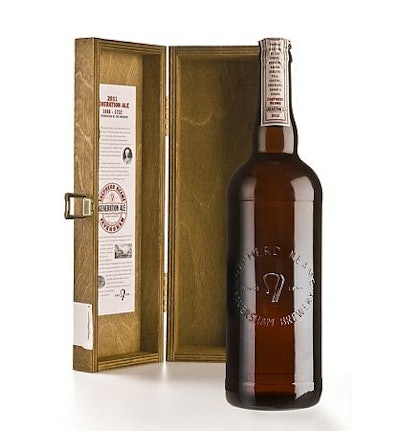 Proclaiming itself Britain's oldest brewery, Shepherd Neame is a family-controlled brewer and pub operator that takes the art of brewing quite seriously. That's evident in the packaging for its Generation Ale premium beer, created in recognition of five generations of the Neame family. Sold hand-wrapped through selected outlets in a wooden presentation box, the beer comes in an elegant 750-ml customized bottle with embossed finish molds.
Kent, U.K.-base brewery Shepherd Neame is selling Generation Ale in unique glass bottles supplied by Beatson Clark. The glass supplier designed customized finish molds for an existing amber glass bottle, thereby creating a unique container with half the leadtime and cost of a full set of molds.
The embossing reads "Shepherd Neame Faversham Brewery since 1698." There is no label applied to the front of the bottle, enhancing the purity and quality of the glass.
"Beatson Cark supplied us with many different bottles in the past and we were confident that they would do an excellent job providing a superb bottle for our Generation Ale," said Tom Falcon, production and distribution director at Shepherd Neame. "Other beers in our portfolio have highly recognizable brands, such as Spitfire and Bishops Finger, but with Generation Ale the brand is the brewery itself and it was very important that we got the presentation right. Beatson Clark was helpful and receptive to our ideas, they worked in a very innovative way, and their flexibility really made a difference."
Beatson Clark's marketing manager Charlotte Taylor said, "By customizing existing designs and offering small productions runs, we can keep costs down for our customers and supply bespoke products to smaller, niche brands."
Generation Ale will be brewed once a year and combines five types of roasted malt with five varieties of traditional Kentish hops. Shepherd Neame describes its 9% Generation Ale as "rich, full-bodied, and packed with sumptuous fruit notes." It retails at £17.50.