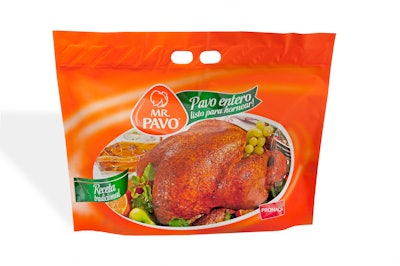 The pouch was produced by Flair Flexible Packaging. Highlighted by a lustrous matte/gloss combination, the 565mm x 415mm + 220mm (22.2'' x 16.3'' + 8.7'') three-side seal, stand-up pouch sports a photo-quality 10-color reverse rotogravure image of a perfectly roasted turkey. The two-hole die-cut handle is placed between an innovative double-reinforced permanent seal that ensures product safety and strengthens the pouch to withstand the weight of a whole turkey.
Inside the pouch, constructed of polyester and white octane-LLDPE, Pronaca has packaged a full-size uncooked turkey in a nylon ovenable bag, complete with a foolproof seasoning packet. The express intent of the colorful exterior pouch was to advertise the Mr. Pavo® brand and showcase the convenience of both carrying and cooking the enclosed turkey.
According to Manuel Franco, marketing manager for poultry business at PRONACA, "The new presentation of the Mr. Pavo® products in the new pouch from Flair surpassed our expectations. This product is a new and unique product in the domestic market — an easy, fast, and delicious alternative that does not break with traditional turkey flavors. This offering was very well received by customers from the first moment, and sales exceeded the planned budget by 26 percent. The success of this concept is simply because the product and presentation are top quality. It's the combination of an easy-to-prepare turkey in packaging that is colorful and easy to recognize and remember, with the added convenience of easy-to-carry handles."
Originally planned as a seasonal promotion for Christmas and Easter, producers of Mr. Pavo® brand turkeys intend to utilize the specialized pouches from Flair Flexible Packaging year-round. "We want to change the minds of consumers and suggest turkey for every occasion, or even as part of a daily menu, instead of just serving it on special occasions. Our new packaging will help us achieve that goal," Franco commented.