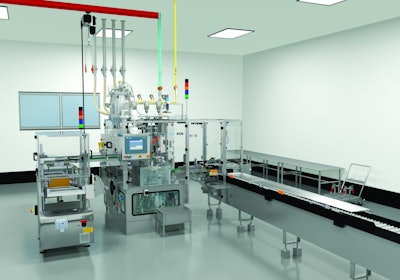 In the "real world," an experienced machine operator may train a new hire how to operate, change over, and/or maintain packaging equipment. That may be the way it's "always been done," but it may be inefficient and inconsistent.
A more standardized training approach that could address the longstanding concerns of how to replace the knowledge of aging and retiring packaging veterans exists in the form of computerized "virtual training" programs for manufacturing and packaging equipment that involves animated and interactive videos and reference materials from Product Animations, Inc. (PAI).
The company's Productivity Improvement Tools aim to help manufacturers by reducing preventable errors and damages to machinery from improper assembly, by improving safety and compliance, diminishing changeover scrap, and by boosting the consistency of operations.
Charles Roberson, PAI's president and founder, explains that the tools can be developed to provide customized training on virtually any packaging or processing equipment (primarily solid-dose blending, milling, fluid-bed, drying, granulation, coating, tablet-compression or coating machines).
Up to this point, animation has been used most frequently for virtual training on thermoformers, pouch fillers, unscramblers, tube fillers, cappers, labelers, cartoners, overwrappers, and case packers.
"Almost all of our business has been in the pharmaceutical area because of the value proposition," says Roberson. "When you have a machine that's creating tablets that have a value of $10 apiece, and you have a machine that's producing 10,000 a minute, you really are interested in keeping that machine running." The investment for virtual training wouldn't make as much sense for a lower-priced product.
End users and suppliers
A visit to PAI's Web site reveals that its list of clients includes both end-user firms such as Pfizer, Lilly, GSK, McNeil, Merck, and Wyeth, while Oystar Jones, Uhlmann, Omega, and Weiler are among the packaging machinery suppliers with which PAI has worked to create virtual training programs.
Roberson explains that PAI approaches equipment vendors in an effort to sell the virtual tools to end-user customers. One of PAI's business strategies is to offer machine makers a small percentage of the sales. "If they say yes to developing a program, and they sell it to their clients, we give the [equipment supplier] a larger percentage of the sale," he says. These can be on a single machine or an entire packaging or processing line.
"As a guideline," he notes, "a relatively simple capper animation program might be in the area of $40,000, a cartoner $75,000, with a complete line in the $350,000 to $450,000 range. This is not a video. We are using a game-like immersive technology where the person being trained to operate the machine learns to identify by name each of the parts involved in a process such as a changeover, and the correct sequence of activities tied to the changeover such as the replacement of the tooling and all the adjustments that need to be made to change the machine over from one size to another size, or from one product to another product."
Getting your money's worth
A PAI customer would receive a VRTrain™ interactive visual simulation program that provides up to 10 hours of training on a line or machine. The company's Web site offers a demonstration of how the virtual training works. The program can essentially be used forever, with a separate charge for use at secondary locations.
"Part of the value proposition is that now you can train people without taking your equipment offline," Roberson asserts. "Some companies will take the equipment offline and away from manufacturing to use that equipment as a training aid, so then they are not conducting actual packaging. And there are some companies that buy duplicate pieces of equipment to use for training. So there is a chunk of money going into training resources for both equipment and trainers.
"In the pharmaceutical world, training is typically done by a subject-matter expert who's knowledgeable about a piece of machinery. We replace an awful lot of that activity with our software program. The good part about training people with this software program, which includes best practices, is that you end up with consistent training, from person to person, from shift to shift, and from site to site."
Roberson points to the limitations of the historical approach of one-on-one peer training. "The problem is there is no standardization there," he says. He suggests a trainer may show a coworker certain "tricks" aimed to save time that may prove counterproductive, inefficient, or unsafe.
Even the area of sustainability comes into play in the animation process, Roberson contends, because the efficiencies developed via the computerized learning process help eliminate material waste that can come from line startups, product or shift changes.
The animation process
PAI prefers working primarily with end-user firms in developing the actual animation product. Roberson says that while end-user firms rely on suppliers for a year or two after buying packaging equipment, it's the end users who know best how that machine relates to their application. "Therefore, we meet with the subject-matter expert," he says. "So we need to acquire the manufacturer's standard operating procedures. We enter into agreements of nondisclosure and confidentiality. If they don't have the SOPs, they tell us their processes. We also ask for copies of the OEM manuals for the machine. We then create a work plan to collect data on how the machine works and how the SOP is set up.
"The next step is we go the client's location, and we videotape the subject-matter expert going through the SOP. During this process we take digital pictures of the machine parts, then come back to our offices to develop 3D models for each of the machine parts. We animate the piece of tooling being inserted into the machine, as well as the adjustment and changeover points. For example, we show sensors and we show the kit handle being tightened so the complete adjustment process is visible for one sensor. We then have a client review and make any changes that are necessary."
The end result is an interactive training tool in which the machine operator can use his or her computer mouse to click on the kit handle, or on the sensor to verify if he understands the process.
And while many of the end-user companies are noted on PAI's Web site, confidentiality agreements prevent them from disclosing specific details. PAI says one of its customers noted that new technician certification time was reduced to one week from six months, with a 40% reduction in subject-matter expert involvement on machinery.
PAI cites research from the National Training Laboratory for Applied Behavioral Science as saying simulation-based learning is nearly five-times more effective than the traditional classroom setting, leading to greater understanding and retention, and giving operators a stronger working knowledge of the equipment when they get to the plant floor. "At the end of the day, operator safety is enhanced, while equipment downtime and retraining costs are reduced," says PAI.