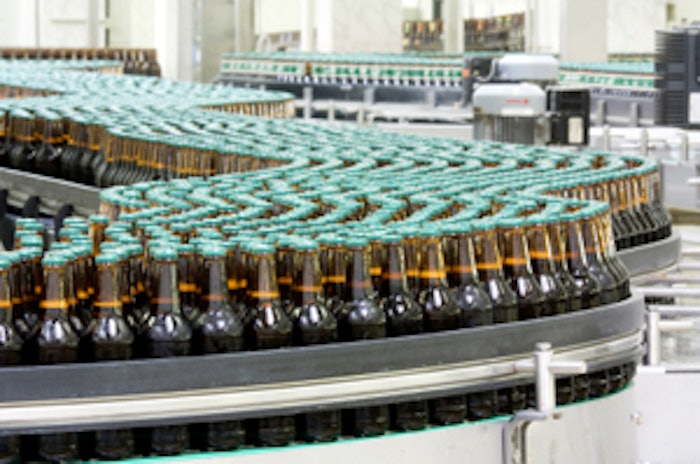 A line audit may be an effective way of aiding the decision-making process on how best to increase production output. At least that proved to be the case at Israel Beer Breweries, part of the Carlsberg Group.
Launched in 1992, Carlsberg has become Israel's leading international beer brand. Carlsberg beer has been produced locally by Israel Beer Breweries Ltd. since 1995 on a line designed for 28,000 bottles per hour. When the brewery formulated ambitious new targets in their five-year plan, it was questionable whether the existing production line could cope with incremental volumes. The company had to make a decision whether to invest in a new production line or to upgrade the existing one to meet the new targets. This triggered a line audit by packaging machinery builder and systems provider Sidel.
Sidel's one-week assessment of the line showed that it was not advisable to increase the output of the existing line as it stood. As a test, the line was pushed up to 31,000 units per hour, which was compatible with the filler's capabilities. However, the test proved that simply increasing the speed of the line led to an overall unbalanced process and a loss of performance.
Following this initial testing phase, Sidel suggested alternative solutions to upgrade the existing line. The V-profile machine speed of the line has been modified to improve machine process and thus get a better line efficiency. In parallel, efforts were made to reduce the changeover times around the filler, and it was suggested that additional accumulation between pasteurizer and labeller be installed. Conveying around the empty bottle inspection machine was also recommended. Finally, the infeed of the packaging machine was reviewed to improve its efficiency. The work carried out with Carlsberg was done as a true partnership, with Carlsberg involving Operator and Maintenance teams in the process. As a result of these measures, production output has increased by five percent.
According to Ron Shinar, manager of Carlsberg Israel's Industrial Engineering Department, "The purchase or the upgrade of a line is a very heavy expense, and we really wanted to rely on the input from Sidel's experts before making a final decision. The line audit performed by Sidel helped a great deal to build a solid business case. We understood the need for our line to be upgraded in order to meet our targets."
In addition to reaching new production targets, the line audit generated some side benefits, including ways to improve preparation time and changeover time spent on moving from one drink to another.