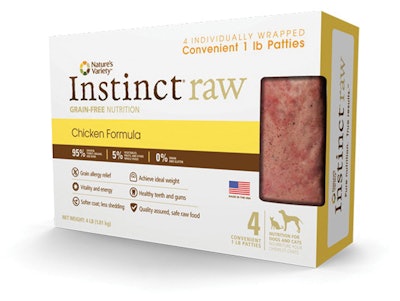 Since 2001, natural pet-food company Nature's Variety, of Lincoln, NE, has built its reputation on providing proper, holistic nutrition for cats and dogs. A subsidiary of pet-treat business M.I. Industries, Nature's Variety was launched on a platform of raw, frozen pet foods, which has grown to include many product formats and eight protein formulations. In addition to its Instinct Raw Frozen Diet brand, Nature's Variety today also offers an Instinct Freeze Dried Raw line, as well as Instinct brand kibble and canned products.

"The founder of our company was an extremely entrepreneurial type with very long and deep roots in the Midwest and agricultural business," explains Nature's Variety vice president of operations Steve Carstensen. "He wanted to find ways to drive value into non value-added agricultural items such as beef, pork, and poultry. At the same time, he had a strong passion for pets and animals and wanted to be able to create a natural feeding and treat offering that wasn't made from synthetic and artificial ingredients."

Five years ago, in reaction to consumers' growing concerns around food safety and increasing FDA regulations, Nature's Variety began considering options to ensure the microbial safety of their raw frozen foods. After evaluating available options, the company chose high-pressure processing, or HPP, a non-thermal technique that uses pressure rather than heat to inactivate harmful pathogens and microorganisms.

While Nature's Variety first worked with an HPP service provider in Milwaukee, WI, the logistics of transporting product the 550-plus miles to and from the facility daily were a challenge. In September 2010, the company approached Lincoln, NE-based Universal Cold Storage—specializing in the handling and shipping of refrigerated and frozen meat products—about adding HPP to its list of value-added services.

Recalls Universal Cold Storage owner and president John Jacobson, "It only took us about three or four days to decide to buy the first [HPP] press, and of course, Nature's Variety became our first customer. The press went live December 31, 2010."

With the first press, Universal Cold Storage launched Universal Pasteurization Company (UPC), a business unit that has now grown in just over a year to comprise five HPP presses—no small investment, at approximately $2 million per machine—with the capacity to add several more.

Raw diet requires non-thermal treatment
Nature's Variety, the only company in the raw pet-food diet category that also offers all the other pet-food formats, including canned food, dry kibble, biscuits, raw frozen bones, and roasted treats, is a leader in the raw-food category segment, says Carstensen. Its products include patties, medallions, and chubs in blends that include chicken, organic chicken, beef, lamb, venison, bison, rabbit, and duck. Its grain- and gluten-free raw diet products contain 95% meat and 5% fruits and vegetables.

Extremely palatable and highly digestible, the raw food products are said to be the most instinctual and biologically correct diet for carnivores such as cats and dogs, according to Ed O'Neill, vice president of Quality Assurance for Nature's Variety. "We have literally thousands of testimonials from users of the raw diet talking about the great things that the product has done for their animal's health, their vitality, and their longevity," he adds.

Because of the exceptional nutritional profile of its products, Nature's Variety had very clear requirements when considering the most appropriate "pathogen-kill" technique. Among them, O'Neill explains, the product had to be processed in such a manner that it would remain raw, and the technology had to be such that it would not destroy the nutrients in the product. "When we looked at our underlying requirements and at existing and emerging technologies, we identified HPP as the one that was commercially viable and met all the needs of our company," he says.

HPP is a technique that has been commercially available for more than 20 years, but only just began to take hold in the mid-2000s, when the equipment became more reliable and economically viable. In 2004, a raft of ready-to-eat meat companies embraced the technology for its pasteurization and shelf life-extending capabilities. HPP uses intense pressure—up to 400 to 600 Mega Pascals (MPa), or 58,000 to 87,000 pounds per square inch (psi)—to inactivate vegetative pathogens that include E. coli, Salmonella, and Listeria, as well as kill spoilage organisms such as yeasts and molds.

As Glenn Hewson, vice president of global marketing for Avure Technologies, an HPP equipment provider, explains, "HPP is said to 'inactivate' pathogens because it is a kill step that happens over approximately 24 hours." The application of pressure to the product through a pressure-transmitting fluid (typically water) within a closed vessel at ambient or lower temperatures damages the cell structure of these organisms so that they cannot repair themselves, and they die. Because there is no application of heat, HPP does not affect the color, texture, or flavor of the product, maintains the product's natural freshness, and extends the product's microbial shelf life without the use of preservatives.

Regarding the cost of HPP versus traditional thermal pasteurization processes, Hewson confirms that while it depends on the product and the type of packaging, HPP can range from 3 to 11 cents more per pound.

HPP as a value-added business
In the heart of hog and cattle country, Universal Cold Storage has a history of fast and furious growth as a tempering, refrigeration, and logistics service provider to meat customers. Established in 2001, the company has grown from its initial 1,300-sq-ft facility supporting one customer to a 475,000-sq-ft facility in 2012, with 37,000 pallet positions. About midway through its history, the company experimented with some value-added services, such as portioning and primary packaging, but discontinued them to focus on their core competencies. "We eventually found that you need to choose your future and put all of your resources into those things that you know best and that you are most positioned to excel at," says Jacobson.

In 2010, when Nature's Variety suggested HPP as a complementary business for Universal, Jacobson seized the opportunity. "In those short three or four days, we gathered a lot of data on the productivity of a press," explains Jacobson. "We knew essentially what Nature's Variety would need weekly out of the press. We knew we would have some downtime on the machine, but we also knew that we had an in-house customer located only 45 miles down the road that was sending a lot of product to another site for HPP. We do all of that customer's distribution. So the product they were HPPing was ironically coming back here for distribution to their customers. It was a rather easy decision for them to make that change. The two customers combined came close to handling the capacity of the one press."

The machine chosen by UPC was the 350L HPP system from Avure. "The reason we chose to work with Avure is because the support and resources they offer are the most comprehensive, hands down," explains UPC business manager Jeff Barnard. "Processors with HPP applications first need assistance with product formulation and packaging validation. We are third-party logistics suppliers, not microbiologists, so when our customers need that expertise, Avure's in-house food laboratory is there to do the work."

The 350L is Avure's highest capacity machine, offering a 350-L pressure vessel volume and a throughput of more than two tons per hour, depending on product size and packaging. The machine employs the company's Quintus pre-stressed wire-wound pressure vessel and frame, a construction that Hewson says "keeps this incredible amount of pressure from escaping."

Products destined for HPP are packed into the machine's two perforated baskets, which are loaded into the vessel and held for a period of time, typically three to five minutes, depending upon the product specifics, at pressures up to 87,000 psi. As Hewson cautions, "You want to optimize your packaging to fill that basket, as the real estate inside that vessel is very, very expensive."

For Nature's Variety, both pre-packaged and final retail-packaged products are processed at UPC. Its pre-packed products are delivered pre-ground and blended to UPC in bulk, vacuum-packed bags. After they are processed, the products are held for 24 hours at UPC's facility for pathogen testing, after which they are returned to the Nature's Variety facility for final forming into medallions, patties, and chubs in various packaging formats.

Just launched last year, a new line of 1-lb patty packs and 5-lb chubs are delivered to UPC for processing in their final packaging. After high-pressure pasteurization, UPC code-dates, carton-packs, case-packs, and freezes the products for distribution to retail.

HPP business booms
Soon after its first HPP press was up and running, UPC ordered a second one, installed in April 2011. "We found with the first press that the machine required a certain amount of maintenance and daily care," says Jacobson. "Because of that, we weren't comfortable having just one press."

To keep the second press busy, Barnard began approaching Universal Cold Storage's existing customers, and the business poured in. Says Jacobson, "With the closest commercial facility for HPP about 550 miles away, the availability of HPP in Lincoln, Nebraska, opened up an avenue for folks who already had been thinking about it."

In December 2011, UPC installed its third Avure 350L press; in March 2012, the fourth was delivered; a fifth is scheduled to arrive in April. The company has also prepared the facility's foundation for two more presses, for a total of seven. "I think when we get to machine seven, and we will get there, the only thing in question is the timeline," says Barnard, "that's when we might look at an alternative site, and where that is will be determined by where our business is coming from."

The facility was recently granted second-shift coverage by the U.S. Department of Agriculture, so it runs its UPC business two 10-hour shifts daily, six to seven days a week. Each press requires a crew of three to five operators, depending upon the package size, to load and unload product, and operate the machine.

While the investment in HPP has been steep, Jacobson feels the technology's synergy with cold-storage services has made it an ideal value-added service for his company. "It's not the easiest business to get into," he admits. "The machines are expensive, and you have to have a lot of resources via coolers and freezers to support them. We have six different tempering zones, as well as a state-of-the-art blast zone that will take any product to zero easily within the typical required time frame of 72 hours.

"The nice thing about pasteurization is that it can run alongside our other business and, aside from using the resources from the cold storage side, it doesn't interfere much with our cold storage activity."

Quality, safety attributes are invaluable
On February 11, 2010, Nature's Variety faced a food processor's worst nightmare: a recall of its Raw Frozen Chicken Diet products due to possible Salmonella contamination. At the time, the company was in the process of moving its products over to HPP. "We were up and running two days after we initiated the recall," says O'Neill, "and it was strictly because we had the HPP process in place, we just had to roll it out to the rest of our product line. If we would have been caught without a contingency plan, our operation would have been out of business for quite a while because the FDA was not going to let us reopen unless we could prove the product was safe going forward."

For that reason, and the overall quality assurance HPP provides, Carstensen says the technology has been well worth any additional incremental cost and operational complexity. "We look at the value it has driven to what we give consumers, the quality attributes and safety of a pathogen-free product," he says. "Out of any system we have researched, HPP is by far probably the cleanest and keeps the product in its most natural base form.

"From the standpoint of UPC, they have been more than just a provider of HPP services to us; they really have been a true partner and are deemed an extension of our operations. We look forward to a long, healthy relationship with them."
Companies in this article