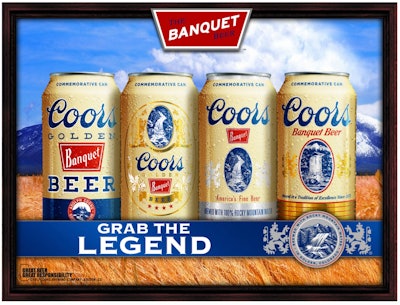 Between April 1 and June 30, 2012, Coors Banquet heritage beer cans will be sold nationwide in limited-edition 12-, 16-, and 24-oz aluminum cans produced at Coors' Rocky Mountain Metal Container plant in Golden, CO. Coors worked with design firm Landor Associates on the project. In addition, a Coors Banquet aluminum pint will be available this August.
Consumers will be able to purchase cans with graphics from 1936, the 1940s, 1977, and 1988. Coors says consumers can also visit the Coors Banquet Facebook page to share their own Banquet moments, photos, or stories, for a chance to appear on the brand's site.
Coors Banquet was introduced in April 1873 in Golden, CO. The company's recent can innovation, in 2007, was a cold-activated label in which the mountains on the label turn blue to show consumers when the beer is cold enough to drink. Coors is available nationwide in cans, bottles, and kegs.