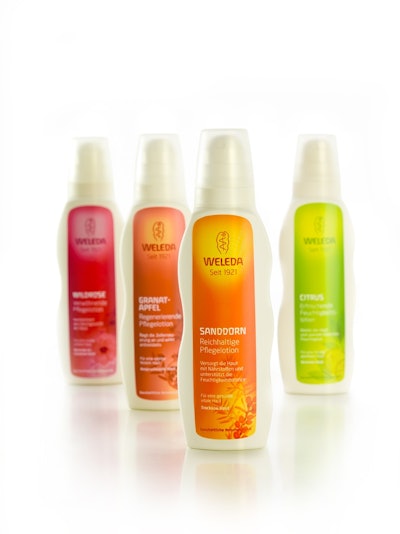 The Weleda Group, a Basel, Switzerland-based maker of all-natural skin and personal care, baby and mother care, and specialized medications, recently selected Mega Airless dispensers for its latest launch of four body lotions.
The retail launch incorporates the Mega Airless Mini SC (self-closing) pump with 0.8-ml dosage. Premounted customized caps include the Weleda logo, while a snap-on ring with 35-mm outer diameter was developed specifically for coextruded bottles with 200-ml inner bags (bag-in-bottle), provided by Gaplast.
Mega Airless' customized cap and collar underscored the company's ability to develop packaging solutions that provide formula protection and standout shelf appeal. With BIB technology, and airless, neutral dispenser design, users can enjoy complete 360-degree application, exact dosing, efficient evacuation and formula stability over the life of the product, without discoloration, clumping, or clogging.
The four new SKUs from Weleda include Citrus Hydrating Body Lotion, Sea Buckthorn Replenishing Body Lotion, Wild Rose Pampering Body Lotion and Pomegranate Body Lotion. They will initially be sold throughout Europe. Weleda's all-natural products are sold in more than 50 countries across five continents.
Weleda recently celebrated its 90th anniversary. Since its founding in 1921, the company has promoted ecological, social, and economic responsibility, including the environmentally friendly sourcing of raw materials. All Weleda products are natural. They are without any synthetic elements and certified by the NATRUE label, an internationally recognized standard for Natural and Organic cosmetics.