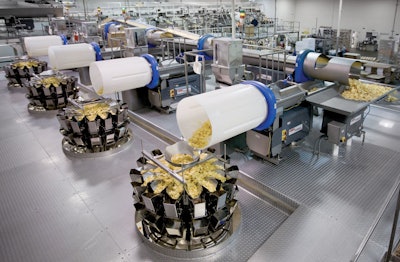 Inventure Foods recently felt the pressure of kettle chip popularity at its plant in Goodyear, AZ. Already operating at 90% capacity, Inventure needed to ramp up production quickly and efficiently when sales of its Boulder Canyon brand natural kettle-style chips grew 30% as supermarket chains introduced the product nationally. "The growth of healhful, natural products generally and our line of Boulder Canyon Natural Foods snack chips specifically brought our Goodyear plant to a point of maximum capacity," explains Brian Foster, senior vice president of operations at Inventure.

The company quickly responded by completely updating its 60,000 sq. ft. plant in 2011, adding six new kettle chip batch fryers and a state-of-the-art product handling, seasoning, and packaging line. "As a growing food company," says Foster, "we must maintain flexibility in our operations to serve both evolving consumer eating patterns and unique customer needs. We would not be able to support future growth without an investment in our capacities."

But efficient packaging of batch-fried potato chips proved more complex than simply installing new bagmakers. Unlike a steady flow of chips produced by a continuous fryer, kettle chip fryers deliver intermittent batches. And since seasoning applicators, weighers, and bag makers work most efficiently with a consistent supply of product, these "waves" of chips can cause inconsistent seasoning and poor packaging productivity.

Inventure Foods recognized the distribution, seasoning, and packaging challenges unique to their batch potato chip process—and the need for production flexibility to quickly respond to changing markets. "Unlike some other firms our size, we have a healthy presence in every snack food distribution channel," explains Foster. With orders rushing in, Inventure had to boost production quickly without stopping existing operations. After investigating several options, Inventure Foods selected Heat and Control to provide a complete product distribution, seasoning, and packaging line that could be installed quickly and still meet Inventure's long-term needs for product quality, reliability, flexibility, continued growth, and ongoing technical support.

Inventure's new system was designed by Heat and Control to even out the product flow and maximize the run-time of all components for greater production efficiency. "The increased capacity the new line delivers enables us to be more flexible in scheduling production to meet demand and to balance our inventories in a more efficient manner to service our customers," explains Foster.

Accumulation
Batches of chips first enter the system through a SwitchBack accumulation conveyor modified for in-line product transfer. As a buffer between processing and packaging, the SwitchBack evens the flow of chips, delivering a steady supply to the FastBack Revolution distribution conveyors and on-machine seasoning system. Gentle FastBack horizontal motion distribution conveyors are equipped with patented cylindrical Revolution gates direct-mounted to the conveyor pans.

The Revolution gates rotate to deliver precisely the exact amount of chips required by each seasoning applicator, weigher, and bagmaker, while allowing the main supply of chips to continue to downstream units. This proportional distribution assures a continuous and consistent flow of chips with no "starvation" and just the right amount of feed to each seasoning and packaging system.

The brain behind this proportional distribution system is a PLC from Rockwell. Sensors on each combination scale send data through an Ethernet connection to this PLC. Essentially it's a message saying "send more chips" or "sufficient chips are present." The PLC then communicates with a Sumitomo gear motor on the Revolution gate telling the gate to rotate to an open or closed position, thus sending more chips to that combination scale or sending chips to the downstream baggers.

"Unlike slide gates, gateless designs, waggle conveyors, and other product diverting methods, the Revolution gate has no pinch-points to damage product or cause injuries, and it closes completely to prevent cross contamination," explains Blake Svejkovsky, product handling systems manager at Heat and Control. "It automatically adjusts to accurately deliver any quantity of product—from a single-file supply of chips to full capacity. This precise yet versatile product delivery is critical for efficient seasoning application," he notes.

"While on-machine seasoning has been around for years, the advent of several key technologies has recently produced seasoned product quality and cost savings that processors are really excited about," explains Svejkovsky. "Technology such as the Revolution proportional gate and integrated conveying/ tumbling systems have produced measurable performance improvements."

Rather than applying seasoning as chips leave the fryers (only to have it shake off during transit to packaging), the Revolution system seasons chips at the point of packaging. The flow of chips and seasoning are measured continually, so the system knows exactly how much seasoning to apply. This produces consistent application rates and low standard deviation between chips and bags of chips.

Additional advantages include the ability to
• increase fryer operating time
• reduce warehouse space and improve service to sales
• utilize a single source of product and apply a different seasoning at each packaging station
• reduce the loss of seasoning and increase application accuracy and consistency
• reduce time spent on changeovers
• reduce risk of cross-contamination and sanitation costs.

"The FastBack seasoning system is much easier to clean and maintain than our existing equipment," says Inventure's Foster, adding that "the Revolution gate system offers gentle product handling unseen in equipment we've used previously."

Weighers
From the seasoning applicators, chips are directly deposited onto Ishida CCW-R-214 weighers that are direct-mounted to Ishida Atlas 233 vertical form-fill-seal bagmakers. Each high-speed, single sealing jaw, continuous-motion bagmaker can make up to 140 bags/minute. A step up from traditional intermittent bagmakers that typically run in the 80 bpm range, the Atlas 233 is designed for products running at medium speeds in continuous motion.

"The Atlas 233 is an economical solution suitable for products that run in the 80-120 bpm range. This mid-range system is easy to operate, delivers efficient production, and is a great value proposition," notes Jeff Almond, snack food industry manager for packaging at Heat and Control. "Before Ishida developed the Atlas 233, processors had only two choices for potato chips and similar products: Either stretch the capabilities of an intermittent-motion bagmaker and accept the increased life cycle cost, or under-utilize the high speed and performance features of a premium bagmaker and live with having over-invested in a wasted asset." Atlas 233 solves that challenge by delivering tailored performance at the right price, explains Almond.

Making perfect packages isn't the only job of the Ishida Atlas bagmakers. They actually control the flow of product through the entire system. Each Atlas 233 tells its dedicated FastBack Revolution gate how much product it needs and when to deliver it. Each Revolution seasoning applicator self-adjusts to match the changing flow of product.

"It is imperative for high quality and performance that an on-machine seasoning system be designed and operated as a single integrated machine rather than as individual unit operations," emphasizes Svejkovsky. "For Inventure, this system approach was even more critical as their bag mix, seasoning flavor profiles, and the basic process of batch frying put special demands on the system."

"We find our new equipment is easier to clean and operate than our existing equipment, and it affords much greater flexibility to meet our needs," adds Inventure's Foster. "The investment has provided gentler product handling, faster changeovers, and efficient sanitation by design," he concludes.

All conveyors in the system use FastBack horizontal motion to reduce product damage and loss of seasonings. This includes a special product recovery loop that handles the inevitable downtime required for bagmaker film changes. Rather than using a traditional belt conveyor and its sanitation and belt tracking problems, Inventure's recirculation system relies on Heat and Control's patented ClimbBack conveyor, which conveys up to 8 degrees uphill. In addition to accumulating chips and returning them to the distribution line, the ClimbBack eliminates stale product and waste problems common to traditional recirculation systems.

"Heat and Control offered delivery times needed to meet our schedule," concludes Foster. "From the project design phase through vendor selection and installation, Heat and Control stood out with the level of service and dedication to understanding and meeting our needs. Other vendors offered equipment solutions, but Heat and Control offered a total package solution. Their commitment to customer service was outstanding, including several things they did at their own expense to insure our target deadlines were met."
Companies in this article