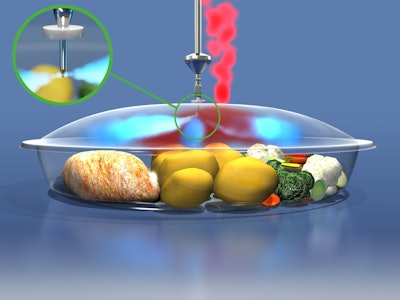 IPS (International Packaging Systems) and Creative New Food GmbH are joining forces to present Micropast at Anuga FoodTec 2012. This innovative pasteurization method is rapid, gentle, energy saving, and both cooks and preserves ready meals and menu components in a single step process. A 'best-before' date of up to 90 days for both complete ready meals and menu components can be achieved in less than ten minutes with minimum thermal stress. Combining microwave technology and steam pressure cooking, MICROPAST® offers an optimal method for pasteurization of sensitive products. Consumer tests have shown that foods prepared using MICROPAST® technology can be difficult to distinguish from similar freshly prepared foods.
One of the first manufacturing and packaging lines with MICROPAST® was commissioned in the Netherlands in 2011. Covered in the October issue of Packaging World, the Zeeland's Roem a la Minute line processes ready meals containing fresh mussels. Other facilities have already been installed or are at the planning stage. IPS, the engineering partner of Creative New Food, offers turnkey process and packaging lines.
The MICROPAST® process starts with filling a standard tray with menu components. The tray is then sealed with the lid film, which has a small opening. The sealed packages then pass through a microwave tunnel where menu components are rapidly heated by microwave and generate steam. Unlike conventional microwave technology, there are no cold/hot spots as the steam pressure ensures a uniform temperature distribution. The core temperatures inside the product quickly rise to 90 to 95 degrees Celsius, cooking and pasteurizing the tray contents.
The overpressure acts as counter pressure and prevents the cells in the food from bursting during heating. No liquid is released from the ingredients and they retain their texture. Immediately after passing through the microwave tunnel oven, the steam is removed by a gas injection process (shown in the illustration accompanying this story). The surface temperature of the food drops by 10 to 15 degrees Celsius. This prevents the generation of a vacuum during cooling. The process solves several problems: no liquid is released from the food, while the product is not damaged by crushing. The food products maintain their texture and colour intensity. Thanks to the gentle processing, consumers are presented with high-quality products at the point of sale.

Companies in this article