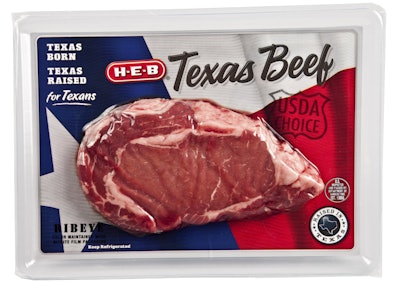 Vacuum-packaged fresh red meat shipped refrigerated in corrugated cases has long been viewed as an eminently sensible case-ready packaging format. Why? Because it could be a two-part alternative to the four-part masterbag format that currently dominates today's case-ready meat category: EPS foam tray, stretch wrap, modified atmosphere master bag, corrugated case. Not only is vacuum packaging greener, more compact, and less costly than the masterbag case-ready format, it provides a refrigerated shelf life that's considerably longer. And it lets consumers freeze meat right in its original packaging with no threat of freezer burn.

The one drawback to vacuum packaging that has kept it primarily on the sidelines in the U.S. is that it deprives fresh red meat of oxygen and consequently causes the meat to darken to almost a purple color. U.S. consumers have shown repeatedly that they want fresh red meat to be red, not purple.

But now Curwood (www.curwoodfreshcase.com) has come up with a solution called FreshCase packaging. Introduced in 2011, it's now in use by several meat processors for both whole-muscle and ground beef in formats that include
• a rigid tray with EZ peel vacuum skin film
• forming/non-forming films
• vacuum pouches

The "secret" to FreshCase is that its meat-contact layer includes sodium nitrite. Enzymes in the meat come in contact with the sodium nitrite to produce nitric oxide gas, which, Curwood points out, is part of ordinary human cell activity. The nitric oxide gas combines with myoglobin in the meat to give the meat the fresh red color with which consumers are familiar. The sodium nitrite in the film is at very low levels and is not detectable in the meat.

Sodium nitrite, says Curwood's Bill Goerich, is Generally Recognized as Safe (GRAS) by the Food and Drug Administration. But to commercialize the FreshCase concept, Curwood had to petition the FDA and the U.S. Department of Agriculture. FDA responded with a GRAS Notice No GRN 000228, which allows use of the FreshCase packaging.
In addition to the benefits of FreshCase packaging already listed above, Curwood claims a few more advantages this format has when compared to wrapped foam trays in an MAP masterbag:
• It reduces markdowns and waste due to expired display life by up to 75%.
• It requires less space in distribution and in the display case.
• It eliminates leakers in the display case.
• It uses up to 75% less packaging
• It eliminates the need for gas, master packs, and oxygen absorbers.
• It eliminates the need for headspace in the package (the headspace is required for the backflushed gas in a masterbag approach as well as for another approach commonly used: the backflushed unit pack with lidstock heat-sealed to the flange).

Among the first to use the FreshCase concept is Paty Meats of Dallas, TX, for the Texas Beef brand of whole muscle fresh red meats from San Antonio, TX-based supermarket chain H.E.B. In this particular application, the format selected is vacuum skin packaging against a clear PVC thermoformed tray. Also part of the mix is a colorfully printed film label placed between the meat and the tray. The vacuum skin packaging film is a seven-layer coextrusion that includes EVOH for gas barrier and is formulated specifically for the vacuum skin packaging format. The PVC tray also includes EVOH for gas-barrier purposes. Paty uses a Koch Intact (www.kochequipment.com) semi-automatic vacuum skin packaging machine.

Companies in this article