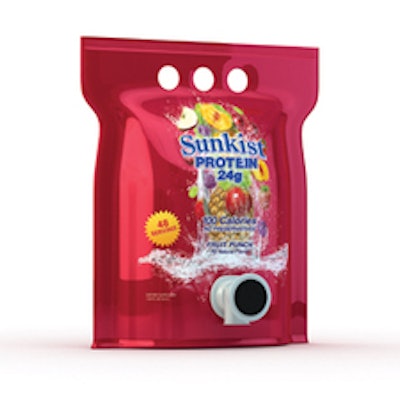 An innovative hot-fill stand-up pouch for protein drinks with a patented dispensing feature launched by Protica under the Sunkist brand was so compelling that readers made it the most frequently viewed article on the Healthcare Packaging Web site in 2011.
In the healthcare space, readers continued to search for information pertaining to trends and issues such as anti-counterfeiting/track-and-trace, as well as developments in regulations, standards, and compliance. That knowledge pursuit helps explain that the fourth most frequently viewed story was the top 10 list of articles viewed in 2010.  The top 10 Healthcare Packaging online articles for 2011 follow.
10. New dosing feature for Pedia Care and Little Remedies acetaminophen brands
A two-piece dosing device, with a polypropylene barrel and high-density polyethylene plunger, help protect infants and children under age two from improper dosing for single-concentration brands of these acetaminophen brands.
9. FDA's track-and-trace workshop talks Turkey about item-level pharmaceutical packaging
Packaging executives gathered at a U.S. FDA track-and-trace workshop to discuss drug package serialization requirements to help provide input into standards. Pharmaceutical manufacturers were concerned that the agency might develop standards that could conflict with those underlying the pharmaceutical packaging security programs instituted by Turkey that could be mimicked by European countries.
8. Pharmaceutical industry bracing for record patent expiries, EvaluatePharma data reveals
With 13 U.S. blockbusters reported to lose patent protection in the next two years, pharmaceutical firms face considerable generic competition. This story lists top pharmaceutical products going off market in 2011-2012.
7. AccuDial spins children's liquid medication dosing into the 21st Century
AccuDial Pharmaceutical's two-part label allows consumers to administer a precise dose—in milliliters—of a liquid medication based on his or her child's weight. That differs from many children's medications that are dosed by age or age groups.
6. Employing holograms in the front line of the anti-counterfeiting battle
The evolving role of the hologram has also been accompanied by the increased use of the security device in combination with other authentication technologies, reports Ian Lancaster of the International Hologram Manufacturers Assn. He says the holographic industry is working to destroy the myth that sophisticated holograms cannot be counterfeited. Anything can be counterfeited. The question is how well and this is where the real value of holograms should be appreciated.
5. Global compliance issues influence pharmaceutical traceability
Impending global legislation is set to bring wide-ranging changes to the coding and marking operations of pharmaceutical manufacturers, according to guest author Craig Stobie, Healthcare Sector Manager at Domino. He reports that the chances of success for any traceability scheme depend on buy-in from the entire supply chain community.
4. Healthcare Packaging's top 10 in 2010
Packages that provide differentiation, counterfeit meds, sustainability, temperature-sensitive shipments, regulatory and FDA issues, and serialization capture the eyes and minds of Healthcare Packaging Web site viewers. From 10 to 1, here's the skinny on the most-viewed articles during 2010.
3. Six trends that will change the fundamentals of pharmaceutical distribution
"Pharma 2020:Supplying the future: Which path will you take?" from PwC U.S. reports on healthcare reform, ne product types, altering the sales curve, new healthcare delivery modes, the growing importance of emerging markets, and greater public scrutiny.
2. Regulations and standards to lead pharmaceutical packaging sales
A Freedonia Group report, "Pharmaceutical Packaging" explains that an increased focus on barrier protection, infection control, patient compliance, drug dispensing errors, and counterfeiting will drive growth for container and closures, and accessories.
1. Sunkist's stand-up protein pouch delivers innovative dispensing
The stand-up pouch is especially intriguing. It holds 48 servings of Sunkist's highly concentrated protein drink. The pouch's innovative dispensing technology—combined with hot filling at 185°F and a pouch material structure that includes foil for gas barrier purposes—gives the package a two-year shelf life with no need for refrigeration.