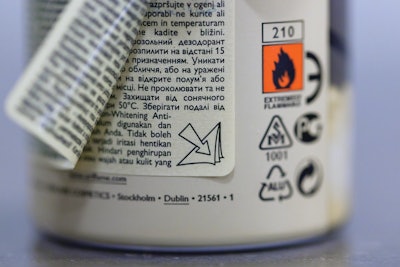 Oriflame Cosmetics S.A., founded in Sweden and now headquartered in Luxembourg, is using a "Superpeel" solution to put large amounts of information on its bottles and tubes without having to resort to multiple labels or multi-leaf fold-out labels.

The Superpeel concept is the brainchild of Skanem (www.skanem.no). It's a pressure-sensitive label that Skanem surface prints on a Gallus (www.gallus-group.com) flexo press. On the same press and in the same pass, Skanem delaminates the clear 50-micron polyolefin label stock from its release liner and prints the back side of the label before rejoining the two substrates again. Die-cutting of the label into its final dimensions is done conventionally, and with that, the label is ready for a labeling machine.

According to Tony Igoe, component sourcing manager at Oriflame, the project started with Skanem as a strategic partner due to an ever increasing regulatory demand from Oriflame's marketplace.

"This has led to the need for more legal text—in multiple languages—to be included on packaging," says Igoe. "To meet this requirement, Oriflame has had to launch multiple variants of each product, up to six in some cases to cover the global marketplace."

One of the problems with multiple variants is that they make it difficult to be flexible. Too much time is spent removing label variant A from a labeling machine and replacing it with label variant B. That's why, says Igoe, Oriflame has pushed hard for the past two years or so to find a single variant that is suitable for multiple package types. Adding additional cartons to products was not an option due to costs, and adding multi-page booklets was also rejected on cost grounds. Not to mention the fact that such options are not exactly consistent with today's principles of sustainable packaging.

Latest technology
"We came up with the concept of using the latest technology on label production to produce a two-side printed, single-ply label," says Igoe. Consumers peel the label at the corner, read the opposite side, and then "reapply" the label by smoothing it down against the container sidewall. Near the top of the label is a hinge that discourages the consumer from peeling the label so far back as to completely remove it from the container.

With this solution, Oriflame avoids having to use excess packaging materials but still gets the amount of real estate it needs on the label to print everything that's required. "Once we realized that this was indeed the cost-effective, single-variant solution we were looking for," says Igoe, "we started to work together with Skanem Poznan to take it from concept to reality."

And what has it been like to work with Skanem as a partner? Igoe puts it this way.

"The Skanem team has been receptive at all times to try out new ideas, provide samples, and think about the solutions being presented. At the start of the project there were some concerns about just how challenging this type of label would be to produce, but once the team started to think in more detail about how to proceed, the development process was really smooth. There were many options investigated and tested, but we always moved forward with each submission. After just over one year we managed to agree on a solution that would work for both our bottles and our plastic tubes. Well done to the whole development team."
Companies in this article