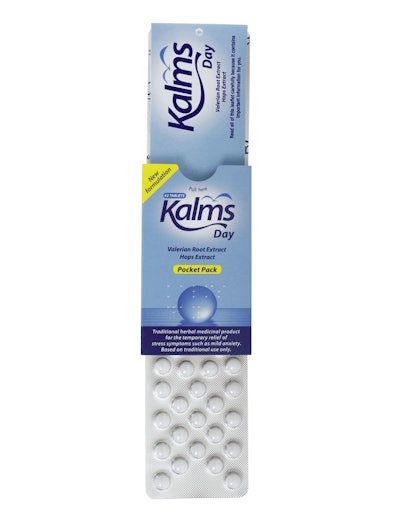 Over-the-counter healthcare manufacturer Lanes Health turned to Brecon Pharmaceuticals
to package the latest extension to its Kalms range of traditional herbal stress remedies--Kalms Day--into the slider pack from Burgopak.
For the launch of its new Kalms Day tablet, Lanes Health was looking for a packaging services partner that could both provide innovative packaging as well as manage the whole packaging and logistics operation on their behalf. The slider pack was chosen to package the new Kalms Day tablets as it delivers a compact solution that retains the patient information and blisters, while being durable, engaging, and making all components easily accessible.
Brecon Pharmaceuticals is said to operate the only Burgopak production line in Europe and has extensive expertise in contract packing, storage and distribution. Brecon provides services in clinical trials supplies management, packing of solid-dose forms into blisters, strips, wallets, bottles, or sachets. Since 2006, Brecon has been a member of AmerisourceBergen Corp., one of the world's largest pharmaceutical services companies serving the U.S. Brecon works with its AmerisourceBergen Packaging Group sister companies Anderson Packaging, and American Health Packaging to deliver harmonized services in Europe, the Americas, and beyond.
Packaging of the Kalms Day tablets into the Burgopaks began in July 2011 at Brecon's Hay-on-Wye facility, with the Brecon and Lanes Health teams working together to manage an extremely tight production schedule and ensure that the new product was on retail shelves by early September.
Says Hilary Lynn, senior product manager at Lanes Health, "It was essential to have a seamless production process, which in this case, meant working closely with Brecon Pharmaceuticals. All the team at Brecon were extremely responsive and kept us fully informed of developments throughout the process and worked quickly to ensure any production challenges were overcome and our crucial launch date was met."
"The combination of the innovative Burgopak and Brecon's management of the packaging and logistical process has been the perfect solution for us," continues Lynn.
"Traditionally, the Kalms product range is packaged in glass bottles and standard blister packs. However this latest range extension required a completely different packaging approach. It was vital that we maintained our brand image, while presenting our product in a highly portable and durable format that would stand up to the wear and tear of being carried around in bags or pockets. We're delighted with the end product and, although it's still early days, trade interest is very positive and consumer sales are growing steadily," concludes Lynn.