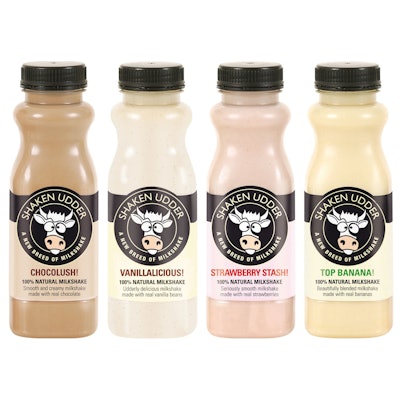 For this Wisconsin-based editor, touting a dairy product from outside the state isn't easy, but there's an utterly delightful story to tell about Shaken Udder Ltd., a UK-based maker of "a new breed of milkshakes" now sold in 330-mL PET bottles from RPC Containers Llantrisant. The standard PET bottles are shaped to resemble a traditional milk churn, and include a 38-mm three-start UCS neck.
Shaken Udder co-founders Jodie Farran and Andrew Howie met at agricultural university in 2003, they saw a gap in the market and launched 100% natural Shaken Udder milkshakes in 2004. Initially, Shaken Udder purchased small quantities of bottles from a distributor, but approached RPC Llantrisant after identifying a need to significantly increase volumes. The two companies worked closely together as the brand grew to the point where it is now sold at leading supermarkets, and with a travelling retail stand at some of the UK's biggest music festivals.
Earlier this year, Shaken Udder created a branding and labeling redesign to lend its 'funky cow' icon increased prominence. So the bottle shape was crucial, as it allowed space for the logo to be displayed more visibly. Farran explains, "Aside from the natural ingredients and British milk that go into every shake, the funky cow really needed to stand out, so finding the right packaging was absolutely key.
"We chose the bottles from RPC because they were unique and allowed our logo to sit comfortably and make the maximum impact on the shelf. When you're a small producer competing against so many big brands it's essential you offer something different. I feel our packaging allows us to do just that. We also take our environmental impact very seriously, so choosing a bottle that could be recycled easily by the consumer was another key requirement," she adds.
Shaken Udder milkshakes are now available in Chocolush, Top Banana, Vanillalicious, and Strawberry Stash flavors, and sold at retailers including Tesco, Selfridges, Harrods, Waitrose, and Sainsbury's.
Shaken Udder's Web site offers a light-hearted look at the company's growth, even revealing this tidbit about a packaging challenge: "So far, 2011 has been a really exciting year for Shaken Udder. Long-time business partners Jodie and Howie got married in April on the same day as Kate and Will's (they've been engaged for three years but had to spend their wedding fund on a new labeling machine)."
Companies in this article