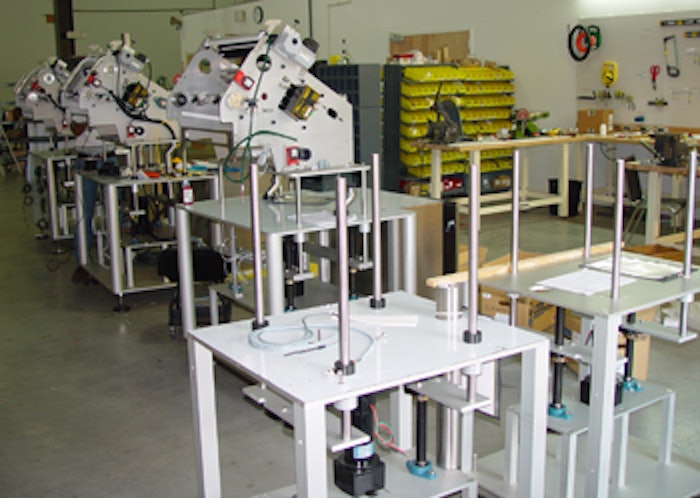 At Modular Packaging Systems' new 27,000 square foot headquarters in Randolph, New Jersey, the plant floor currently holds two complete filling lines, a third line being built up for PACK EXPO, plus ten slat fillers and two electronic fillers with plenty of room available for the next project.
All that space is a luxury that Modular Packaging's Andy Smith appreciates after years in a building half the size. The need to move became more acute in the past few years with the rapid growth of their packaging line integration business.
"It was a clear, open space, so we were able to build out to maximize our integration area," Smith says. "We have multiple dock doors, and the compressed air and electrical power capacity to run multiple factory acceptance tests (FATs) the same day."
This capability goes along with the growth in the company's systems business, as Smith explains, "These are turnkey systems with complete integration, OEE tracking and centralized monitoring systems. OEE function tracking includes sensors on the line to collect data, understand how the line is working and determine where the bottlenecks are."
As engineering resources become more constrained, especially at pharmaceutical producers, Modular's integration capability has risen to center stage.
"Today we primarily work with pharmaceutical manufacturers, contract packagers, and nutraceutical/vitamin producers," says Smith. "Having the larger facility gives us the ability to go into new product lines, new applications, and end-of-line as well."
PACK EXPO focus on pharma serialization, OEE
At PACK EXPO Booth C-544, Modular Packaging will have a complete line in operation, including three fillers, a counter, two slat fillers, a labeler integrated with vision, central monitoring and control, and bottle tracking throughout the line. A VNC connection will be used to perform remote diagnostics.
Modular's machinery at PACK EXPO will all be equipped with control systems from B&R Industrial Automation, the company's automation platform of choice, provided by partner iAutomation.
B&R's latest integrated automation controller and HMI, the Power Panel 500, will control a labeler with integrated vision, including Acuity vision software on Windows all on the same hardware set.
A second Power Panel 500 will provide centralized line control and monitoring, run video, and be capable of performing serialization and OEE tracking.
The larger pharma companies are getting on board with serialization and the momentum is building toward a standard.
"We've had more and more requests for serialization in the past two years," according to Smith. "the Power Panel is ideal because it is powerful enough to handle the required Windows applications and vision systems.
"We're taking that next step," he says, "where the central monitoring system also becomes the server for serialization."
Companies in this article