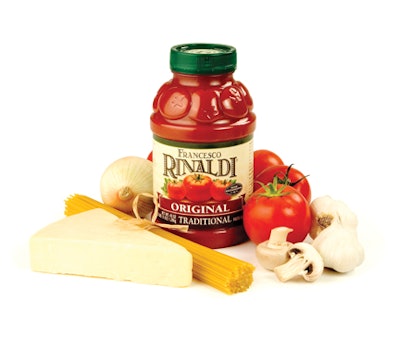 Often in package design, there are trade-offs. To get one benefit, another one often has to be sacrificed. But LiDestri Foods, Fairport, NY, got everything it wanted for its Francesco Rinaldi brand of pasta sauces without surrendering anything.
The brand's new packaging gains three important benefits:
• A stunning design on a custom PET jar.
• A snug fit in the hand, which is not always evident with plastic packaging.
• A more stable labeling process that improves lines speeds by 25%.
The third point is critical for LiDestri, which produces more than two million jars of sauces and dips every day. The company faces the dual scheduling challenges of packing its own products and also acting as a manufacturer and contract packager for other companies' pasta sauces, salsas, and additional jar foods.
LiDestri Foods receives the specially designed 45-oz, hot-filled, monolayer PET jars for its Francesco Rinaldi sauces from Constar. Giovanni (John) LiDestri, president of LiDestri Foods, says the old jar's form created labeling complexities that slowed the production line. With the new, symmetrical jars, "the labels go on cleanly and without distortion, so there are fewer line stoppages and reduced spoilage from misapplied labels. The new package has given us a more stable, predictable labeling process that has improved line speeds by 25%."
The image of a continuous circle of plump tomatoes is built into the shoulder of the jar mold. The design of the mold comes to life when store light illuminates both the gloss of the plastic and the ruby-red tomato sauce inside the jar.
Constar created the iconic detailing—a tribute to LiDestri's 50-year history in the food industry—using special engineering software that accelerates the development of high-performance, lightweight custom packaging.
The improved brand experience continues with the package's rigid in-hand feel, which consumers don't always associate with plastic packaging. Constar achieves this upgrade through an innovative "ribbed" geometry called Vertical Compensation Technology™ (VCT) that eliminates the need for vacuum panels and side grips in the jar. VCT also reduces the jar weight by about 15% and provides the additional benefit of improved top load in distribution, despite the reduced jar weight.
"PET containers with VCT have improved rigidity and symmetry," says Alex Fioravanti, Constar marketing director. "The round design facilitates high-speed label application when compared to more complex grip designs, a factor that was demonstrated on LiDestri Foods' production line."
The new jars provide the Francesco Rinaldi pasta sauce line with up to two years of shelf life.
Companies in this article