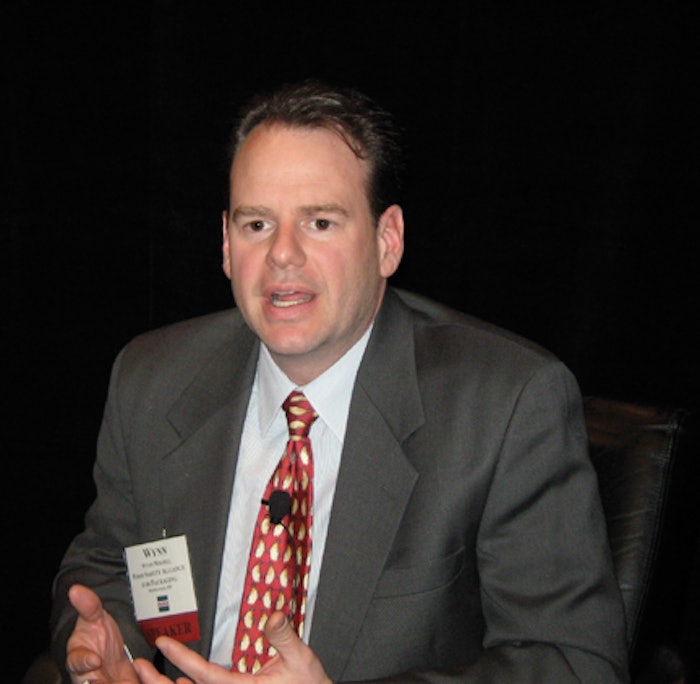 Processing equipment will occupy some 70,000 net sq ft of space at this year's Pack Expo International, and that's just one of the changes visitors can expect when the show unfolds in Chicago October 31-November 3.
Another big change in the show, produced by the Packaging Machinery Manufacturers Institute, will be the nature of the conference proceedings that have always complemented Pack Expo, both in Las Vegas and Chicago. The Grocery Manufacturers Association (GMA) is partnering with PMMI and co-locating the first ever Manufacturing Excellence Conference during Pack Expo. This event will deliver two days of education on topics including product safety, sustainability, and operational reliability. The event will be held Monday, November 1 and Tuesday, November 2, as part of the four-day show.
"We are extremely pleased to have the leading trade association that represents the world's food, beverage, and consumer packaged goods companies to co-locate this important event during Pack Expo International," says Charles D. Yuska, President and CEO of PMMI. "GMA member companies such as Kraft, Georgia Pacific, Coca-Cola, Unilever, and The Hershey Company attend Pack Expo International to find the latest in processing and packaging solutions, and now they can benefit from world class education from GMA's Manufacturing Excellence Conference."
Pamela G. Bailey, president and CEO of GMA, is equally pleased by the arrangement. "The PMMI Pack Expo International Trade Show," she notes, "with more than 1,600 exhibitors and over 45,000 attendees, is the perfect venue to host a comprehensive manufacturing conference that will deliver new and innovative solutions for our industry's most pressing issues. By partnering with PMMI, our goal is to provide GMA members and all of our industry partners a forum where we can work to align manufacturing, engineering, and plant management problem-solving in the critical areas of product safety, sustainability, and operational reliability."
Observing market forces
PMMI executives emphasize that the changes being made to Pack Expo are not just change for the sake of change.
"There are always market forces working to shape both PMMI and Pack Expo, as both need to mirror the industry they serve in order to be truly effective," says Yuska. "In 2009, the PMMI Board of Directors and our members voted to make two important changes to how we operate. First, the association added a new membership class for processing machinery manufacturers. With this change, PMMI now represents all aspects of the production supply chain, including processing and packaging machinery, materials, containers, and components.
"Additionally, PMMI expanded the focus of Pack Expo to include processing solutions. To support this expansion, Pack Expo International 2010 will feature the launch of The Processing Zone, a special area of the show where attendees will find the latest processing technologies for a variety of markets including beverages, baked goods, snack food, meat, dairy, produce, pharmaceuticals, and cosmetics. They'll find practical solutions to enhance food safety, cut waste, protect product freshness, and improve sustainability. We're making these changes to align the show with the total systems approach brand owners are taking with their manufacturing teams. With processing solutions integrated directly into Pack Expo, brands will be able to address the production line as a complete process and find innovative technologies to help improve overall operational efficiency."
At a first-of-its-kind Pack Expo Thought Leaders Dinner held by PMMI February 16 in Rosemont, IL, PMMI executives talked with the packaging and processing press about the new look Pack Expo is taking. Included in this program was a panel discussion on food safety. Wynn Wicksell, who is manager of packaging QRO at General Mills and chairman of the Food Safety Alliance for Packaging, was one of the panel participants, and he talked about FSAP and the Food Safety Resource Center that will be part of Pack Expo International.
According to Wicksell, 55% of food industry recalls are caused by improper labeling involving, for example, food allergens. Only 20% were caused by microbial issues and 15% by the presence of foreign materials. If more than half of food recalls today are labeling-related, why shouldn't food manufacturers want to enage packaging suppliers in elevating food safety awareness? For more information on Pack Expo International, visit www.packexpo.com.