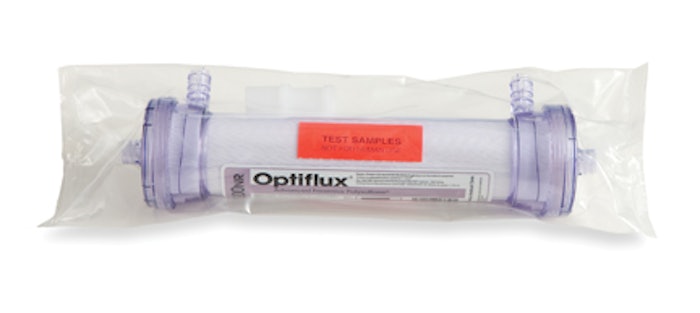 FPA issued a Gold award to a structure viewed as an innovative packaging solution for dialyzers. The multilayer film is manufactured by Pliant Corp., which now operates as Berry Plastics' Specialty Films Div., following Berry Plastics Corp.'s December acquisition of Pliant. The 3.25-mil film is a coextrusion of nylon and polyethylene.
Pliant ships the unprinted film in roll form to a large North American-based OEM for flow-wrap packaging. The package encloses a dialyzer, and includes a fin seal and two end seals, according to Ketan Shah, director of sales/medical for Berry/Pliant. These products are used in dialysis equipment in hospitals or in renal dialysis centers.
The package allows the company, which preferred not to be mentioned by name, to switch to "an improved sterilization method that is more preferable environmentally," says Shah. "It provides economies of scale compared to EO, as well as a shorter sterilization cycle time.
Companies in this article