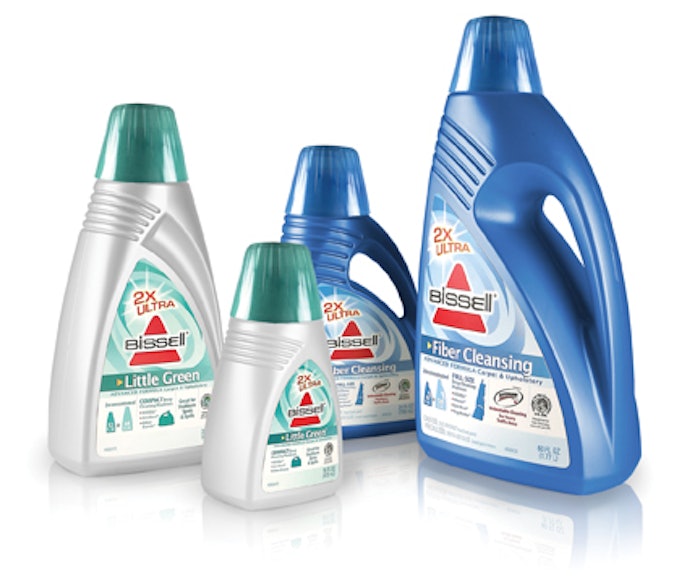 A leading North American manufacturer of floor-care products, Bissell Homecare, Inc., Grand Rapids, MI, markets sweepers, vacuum cleaners, deep-cleaning machines, and cleaning formulas at retail locations worldwide. All of Bissell's machine cleaning formulas carry the Design for the Environment (DfE) certification of the U.S. Environmental Protection Agency, which recognizes safer chemistry to better protect human health and improve environmental profiles of chemical-based products. Bissell chemists have worked hard to ensure that these more environmentally friendly formulas do not sacrifice any cleaning strength.
Bissell's ForEver Green Team also constantly strives to enhance the eco-friendly aspects of its packaging. Toward this goal, in September 2009, the company debuted more potent versions of its carpet cleaners that enable the products to be marketed in smaller plastic bottles, while providing consumers with the same amount of cleaning power per package. Called 2X, the new cleaner formulas are twice as concentrated as the previous versions. Consequently, the bottles only need to be approximately half the size. The containers require less shelf space, reduce freight costs, and render the bottles easier for consumers to carry, store, and pour.
Bissell self-manufactures the high-density polyethylene bottles in 8-, 16-, 20-, 24-, 26-, 32-, and 60-oz sizes. The company selected creative packaging structure and graphics design agency Product Ventures LTD to redesign the existing carpet-care formula packaging and graphics for improved sustainability, plus optimum consumer-convenient ergonomics and dispensing features. The pressure-sensitive labels are supplied by Monet Graphics, and are applied using labeling equipment from Accraply. Bissell uses a 16-head net weight filler from Serac to fill the bottles. The measuring caps, custom-designed by Product Ventures, are manufactured by Gem Plastics (616/538-5966) and lined by Performance Systematix, Inc. The caps incorporate UltraClear polypropylene resin from Sonoco.
Solving a capping glitch
Bissell had not intended to invest in a new capper. They had planned to continue using their existing in-line capping machine for the new packaging. Consumer panel tests revealed that a dosing cap would make the package more consumer-appealing. But late in the redesign process, the company discovered that its new dosing cap had a tapered (conical) shape and would not run on the existing capping machine.
So Bissell set out to find a suitable supplier of a chuck-style capper that could meet its operational criteria within a compressed time period. After investigating available options, the company called in Fowler Products, a division of Pro Mach,  to solve the problem. The machine had to be designed using vacuum grippers and chucks because the tapered caps could result in "cherry pitting"—caps slipping or spitting out of traditional chucks. Fowler was able to deliver a solution in 13 weeks rather than the normal 22 to 24 weeks required for machine customization.
Bissell's director of chemical packaging Adrien Lewis notes, "We chose a Fowler/Zalkin Model CAS-5/360 five-head automatic capping machine. The machine was custom-designed to run our custom caps. The capper can run at speeds up to 175 containers per minute, but we run in the range of 100 to 120 cpm.
"Working with two companies as reputable as Fowler and Product Ventures was a pleasure and went a long way in ensuring the success of the project. Product Ventures was able to provide us a variety of bottle and cap design options, set up focus groups, and make changes on the fly at a moment's notice. The Fowler folks just know how to make a great machine. They kept to the timelines and designed a machine that can be easily operated, changed over, and maintained. The group was very knowledgeable, and the level of customer service was world-class. When you work on a project with companies that perform their craft at a high level, you are bound to have success. And that is exactly what we experienced."
Lewis reports that consumer reception to the new packaging has been highly positive. He says, "Consumers really like the size and look of the new product. It stands out on the shelf. We feel the bottles reflect Bissell's leadership in the floor-care products category and our commitment to packaging sustainability and environmental friendliness."

Companies in this article