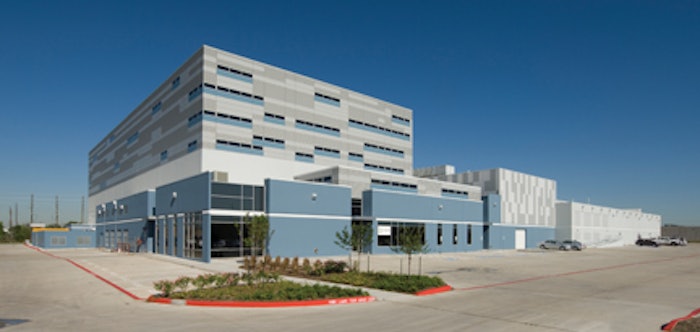 In today's sustainable packaging-focused environment, if you were given the opportunity to build a package manufacturing business from the ground up that was green from stem to stern, where would you begin? Perhaps you would integrate the latest building technologies for energy savings and clean manufacturing. State-of-the-art equipment that kept waste to a minimum and uptime to a maximum would certainly be on your list. What about your end product? Would it incorporate the latest materials to reduce your customers' environmental footprint?
New high-barrier flexible-package manufacturing company Accredo Packaging, Inc.  of Sugar Land, TX, has done just that. Says the company's vice president and general manager, Kevin McCarthy, "Accredo is actually built on the premise of sustainability."
Accredo's new greenfield plant is designed and built to LEED® (Leadership in Energy and Environmental Design) certification standards and houses some of the most sophisticated converting equipment available, utilizing new production technologies that optimize machine uptime and reduce waste. Accredo's flexible packaging products also include eco-friendly alternatives. Among them are more efficient pouch designs, such as the Totani-made  Box Pouch®, and a new three-layer, biopolymer pouch said to be the first flexible stand-up pouch with reclosable zipper made from certified compostable components.
As Accredo's director of sustainability, Malcolm Cohn, told Packaging World during a recent visit to the new plant, "Our name, Accredo, comes from the Latin word 'credo,' which means 'to believe.' We felt this was appropriate because at Accredo Packaging we believe in sustainability. We believe in recycling, conservation of energy, water conservation, environmental ethics, and human health. These are things we don't just talk about but put into practice."
Plant built to LEED guidelines
Accredo is a division of API Enterprises, Inc., the world's second largest supplier of T-shirt style polyethylene grocery bags. The family-owned company directs its six manufacturing facilities—five in the U.S., and one in Thailand—from its headquarters in Sugar Land.
The newest facility, the 200,000-sq-ft Accredo plant, is the first of API's facilities to be built to meet LEED certification standards, and is believed to be, according to Cohn, the first such manufacturing facility in the U.S. "The facility and its layout were designed from the ground up so as to minimize carbon emissions during the production process," he relates.
One of its most salient LEED-friendly features is the plant's use of renewable, wind-generated power to supply 100% of its electricity. This results in a reduction of 8.5 million lb of carbon dioxide annually, Cohn relates. Eighty percent of the building materials used to construct the plant were regionally sourced and produced, and more than 30% of the building materials were manufactured from reused or refurbished materials. In addition, approximately 50% of construction waste materials were recycled or salvaged during the building process, thus reducing landfill waste.
At press time, Accredo is still waiting to receive official certification from LEED, a procedure that Cohn describes as "a very lengthy process."
Converter has green in the bag
For the packaging community, perhaps the biggest buzz surrounding Accredo relates to its new stand-up pouch construction engineered completely from certified compostable materials, including a compostable zipper—a component that Cohn says had stumped the flexible packaging community for quite some time.
"The challenge has been to develop a reclosable zipper made from certified compostable resin that is also compatible with the compostable sealing ply," he says. "The only option available until now has been polyethylene zippers. These zippers do not adhere to the biopolymer films."
The individual film components of the newly developed biopolymer pouch are respectively certified to ASTM 6400 and EN 13432 standards for compostability in industrial composting facilities. Cohn says the company has been in discussions with a number of large consumer packaged goods companies that are interested in pioneering the new pouch. In the meantime, certification of the biopolymer pouch to the compostable standard ASTM 6400 is in process. There is also a patent pending on the structure.
Equipment minimizes waste, increases uptime
When Accredo's plant became fully operational in August 2009, it was with some of the most current converting machines available for every stage of the flexible package manufacturing process, from film extrusion to bag making. Built with long-term expansion in mind, Accredo continues to add new state-of-the-art machinery and equipment to its portfolio.
The facility is currently equipped with two nine-layer Windmoeller & Holscher Varex coextrusion lines. There are only three of these machines in the country today, Cohn relates. Each coextruder can blend four different ingredients thus enabling Accredo to tailor high-barrier films to support value-added markets that require specific moisture, oxygen, and other barrier protection. The company has also invested in three-layer extrusion lines to produce sealant layers.
The lines will accommodate both traditional petroleum- based resins and those made from renewable materials. One development is the compounding of PE resins made from sugarcane. "It means we can actually make packaging from a renewable resource that's recyclable," says Cohn.
Printing at the plant is accomplished through 10-color W&H Novoflex CL flexo presses. The Novoflex CL is capable of running at machine speeds up to 2,000 ft/min. The reduced production time reduces greenhouse gas emissions. Committed to its use of extended-gamut printing technology for all of its print jobs, Accredo can reproduce more than 1 million color combinations without the use of spot colors. Accredo's proprietary ink-delivery system completely eliminates the need to change over ink colors between print runs.
Not only does the technology eliminate ink changeover and wash-ups, but it also enables Accredo to combine different SKUs at the same time, thereby increasing operating efficiency. Job changeover is a mere 15-minute process, Cohn says, as the sleeves are changed out and the new ones inserted. The result of the extended-gamut color technology is a 95% reduction in ink waste, a 35% reduction in ink use, 80% less solvent usage, and 40% more uptime, resulting in increased productivity all around. "Anytime you reduce material usage and waste you are being more sustainable," says Cohn.
The presses are totally enclosed to capture solvent emissions, which are then "scrubbed" clean. "We recapture 99.5% of the emissions," says Cohn. "We say here that whatever gets emitted is cleaner than the air coming in."
Accredo's on-site plate manufacturing process is also designed with sustainability principles in mind. Graphic files are transferred digitally from computer-to-plate. The process itself eliminates solvents and plate drying, which reduces overall energy consumption, emissions, and waste. Processing waste is collected and incinerated for energy.
Laminating is accomplished with a Rotomec CL 1000 from the Bobst Group that operates at speeds up to 1,500 ft/min. Thus far, Accredo has used only solventless adhesive, though water- or solvent-based adhesives can also be used.
Rounding out the pouch provider's capabilities are Totani stand-up pouch machines that can produce both conventional stand-up pouches as well as the flat-bottom Box Pouch. Still a niche market with not a lot of players, the Box Pouch offers a sustainable option to conventional formats, Cohn explains. Called "a fusion between a pouch and a container" by Totani, the Box Pouch has a square body like a box that comes together at the top with a zipper.
According to Totani, the Box Pouch reduces film consumption up to 15% versus conventional stand-up pouches and minimizes wasted space within the package. Shelf-space utilization can also be maximized due to the pouch's square shape, and the flat bottom provides a more stable stand-up capability. Marketing is better served by the pouch design, as well, as five sides can be printed with branding information. The pouch can be used for items such as cereal, snack food, and pet food, as well as for liquids.
Positioned for growth
Taken together, Accredo's new facility, equipment, and package designs should well position it to meet its customers' sustainable packaging requirements.
"The Accredo initiative is that flexible packaging is in itself a 'reduce strategy' to begin with," says Cohn. "Then our state-of-the-art machinery enables us to produce high-barrier flexible packaging at reduced gauges maintaining the barrier properties, and doing that at faster speeds. And that means less packaging, reduced costs, and reduced greenhouse gas emissions, which means a reduced carbon footprint, which means increased productivity. It's a win-win situation."
Companies in this article